What to Look for in CBD Oil: Avoidable Mistakes While Shopping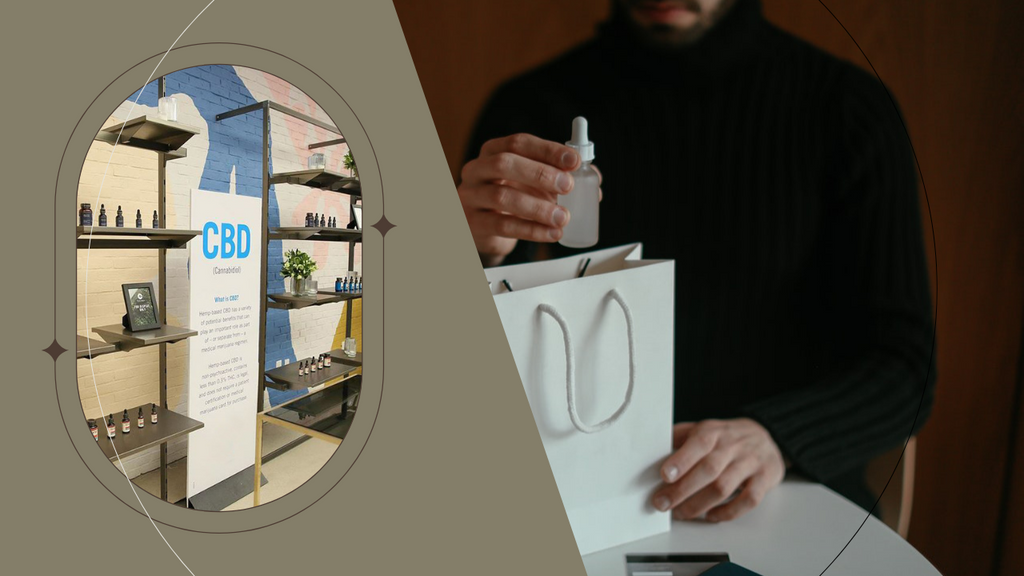 CBD oil is becoming more and more popular with the passage of time. 'Cannabidiol' in short 'CBD', is a Phytocannabinoid that comes from the cannabis plant which doesn't have any psychoactive effects. An increasing number of people are buying CBD products as an alternative treatment option. Simply because it does not produce the mind-altering or cognitive high associated with THC. CBD oil is usually consumed orally but can also be applied topically, smoked, or vaped. It all depends on the desired effects & variance of CBD product types.
There are many rising concerns among CBD consumers about buying CBD from the recent booming CBD marketplace. One, such common question is: What to look for in CBD oil and how to avoid mistakes when shopping CBD?
Buying CBD oil is not as easy as buying a bottle of ordinary oil. There are some facts you may consider before buying any CBD products. To assist you with all these facts, here we will break down a simple CBD oil buying guide. Following our guidelines, you can easily know what to look for when buying high-quality CBD oil.
What Is CBD Oil?
Hemp-based CBD oil is extracted mainly from industrial hemp plants, which contains less than 0.03% THC (lab controlled). Alongside, many other CBD products are made from this very same hemp-extracted CBD oil. They come in a variety of forms including dosage variations as well as form factors and methods of application. All of them have their own set of benefits based on why you're consuming them. Based on the way of CBD consumption, we consider CBD tinctures as the most popular form. But there are also CBD edibles like capsules, gummies, and topicals like relief cream, roll-on gel, bath bombs even CBD for pets available in the market.
Traditionally, high-quality CBD oil indicates the product that contains only pure CBD including most other plant-based cannabinoids except mind-altering THC (another major cannabis compound). To remain federally compliant, all CBD products must contain no more than 0.3% THC and this is strictly controlled on labs for high-quality, compliant CBD oils.
Related: Does CBD Oil Expire? 10 Tips To Increase Your CBD Oil Shelf Life
10 Things To Look For In CBD Oil
When Buying
On the labels of the most reliable high-quality CBD oils, you'll find the following information:
Serving size of CBD as an active component.
Supplement info chart listed with additional ingredients.
The net weight (with/without packaging)
Name of the manufacturer or distributor.
Product type: isolate, full-spectrum, or

 

broad-spectrum.
Manufacturing Date, Expiration date and batch code.
Required warnings & signs.
Best storage tips to ensure maximum

 

shelf life.
Bar-code or QR-code comprising necessary data
Related: Top Tips to Buy CBD Online for Beginners
The Basic Cannabis Comparisons
People usually buy CBD products because they want to reduce anxiety levels without altering their minds with THC's psychoactive effects. CBD can provide relief without intoxication. To grasp the total picture, you should polish up the basics of cannabis terminology right away.
The Comparison Of Hemp Vs. Marijuana
Hemp and marijuana are two different plants. Both of them come from the Cannabis Sativa L plant family. But different cultivation methods result in three distinct varieties of cannabis. Similarly, differences in cultivation practices account for major differences between hemp and marijuana.
CBD manufacturers extract CBD from industrial hemp plants. Industrial hemp is now legal to grow in many countries including the USA and many parts of Europe. Hemp has less THC content per dry weight (compared with marijuana's average THC concentration, which ranges between 15%-35%). CBD products made from this type of plant can be sold all over the world due to their low THC levels and high CBD concentrations.
Hemp Vs. Marijuana: The Endocannabinoid System
CBD products will not get you 'high' because it's non-intoxicating. Whereas marijuana does contain some level of intoxicating effects due to its THC concentration. If someone smokes or ingests marijuana they'll typically experience altered senses of taste, sound & sight; increased heart rate and blood pressure; memory impairment; paranoia or psychosis. THC does bind with CB receptors which is the reason why marijuana will get you high. CBD on the other hand has less interaction with these receptors. Hence, CBD doesn't show any psychotropic effects.
Drug Tests And Legality: Hemp Vs. Marijuana
CBD products derived from marijuana might provide a few psychotropic effects and THC present in these products will appear in a drug test. Hemp extracted CBD contains just trace quantities of THC 0.3%—normally, while conceivable, it is not enough to create mind-altering 'high' or record positive in a drug test. It is crucial to remember that CBD & THC function together better than alone. Usually, this phenomenon is known as "The Entourage Effect". You can always rip the total benefits of CBD without worrying about any THC-associated adverse effects or passing drug tests. Broad-spectrum CBD oil is the smart option for you which is a completely THC-Free CBD product.
You may procure CBD products originating both from marijuana and hemp, depending on the country or state law where you reside. Either you just have access to CBD products derived from hemp exclusively or usually have zero access to any CBD products.
The Comparisons Between CBD Vs. THC
CBD is a non-intoxicating phytocannabinoid, which producers usually extract from CBD-rich hemp or cannabis plants. CBD typically comes in either oil form or as dried buds, flowers & leaves for alternative consumption options like smoking, vaporizing, etc.
On the other hand, THC (which stands for tetrahydrocannabinol) is the most psychoactive of all cannabinoids we find in marijuana (as well as its sister plants). In other words, THC will get you high!
CBD Vs. THC: The Endocannabinoid System
CBD's medicinal benefits are largely due to its ability to act upon our central nervous system without producing any mind-altering effects – this means it does not impair your cognitive abilities nor interfere with motor functions whatsoever! CBD binds directly with the brain's endocannabinoid system (ECS) receptors, revealing a feedback loop that can help regulate moods and reduce anxiety levels.
THC on the other hand is responsible for producing marijuana's 'high'. THC binds to CB1 & CB2 types of cannabinoid-sensitive receptor cells in our brain. CB1 receptors mainly exist in the central nervous systems like the hippocampus & cerebellum. CB2 is plentiful throughout our brains, spine, nerve tissue areas.
THC Vs. CBD: Effects On Our Body
CBD does not produce any psychoactive effects whatsoever like increased heart rate/blood pressure; altered senses (of smell or taste); memory impairment; paranoia or psychosis because it doesn't bind with either of those cell sites.
THC on the other hand does bind to CB receptors. THC binds with the cannabinoid receptor cells in our brains that are responsible for mood-altering effects and a feeling of 'high' sensation.
Related: How to Choose A CBD Oil without THC in 2021
Is It Legal To Buy CBD Oil?
According to, the 2018 Farm Bill also known as the Agriculture Improvement Act, erased hemp extract CBD from the list of prohibited substances which made The FDA (US Food and Drug Administration) responsible for the market monitoring. The FDA since published a clear regulatory guideline for using cannabis and cannabis-derived products including CBD products. But that statement was not been able to prevent a number of states from developing their own legislation.
Always assess the local cannabis laws and regulations of your state to find out whether CBD products in your region are legal or not.
What Is The Price Of CBD Oil?
CBD oils are popular in today's marketplace but are not inexpensive. CBD oil tincture bottle's price ranges somewhere between ($30-$200) for 1 ounce or 30 milliliters net content. Price varies from brand to brand and mainly fluctuates because of the indifferent CBD concentration of the CBD products.
How To Avoid Mistakes
When Buying CBD Oils Or CBD Products?
Here we provided a step-by-step guideline for you to buy CBD oil. Following our tips, you will learn how to avoid common pitfalls when buying CBD oil or any other CBD products.
01. Identify Why And Which CBD Product You Intend To Use
As a matter of fact, the initial point you need to think about is why you wish to use CBD in the first place. Although many brands actively market the product for a number of potential therapeutic benefits, initial study shows, it might assist with anxiety and pain, opioid addiction, and some other health conditions. For the time being, it just showed promises to help people with two uncommon types of epilepsy. What's more, it's not certain which form of CBD product. However, Experts do have some suggestions:
CBD products:

 

tincture drops

 

(liquid), gummies (edibles), concentrates (oils) or

 

gel-caps

 

(capsule shaped) for oral uses.
Vape CBD juice (liquid that vaporizes without any risk of combustion) used in e-cigarettes and vape pens.
You can apply

 

CBD sprays

 

under the tongue or inside the mouth area sublingually.
CBD topicals

 

can be applied on outer body parts like skins as well as other surfaces like hairs and nails.
Topical CBD applications like:

 

Roll-on gels, balms,

 

relief creams, lotions and salves are few noteworthy mentions of CBD skincare products.
Whereas, hair shampoos, body shop, shower gels, bath bombs are some examples of CBD toiletries.
Related: CBD Oil Tinctures vs Capsules: Differences & How to Choose the Best
02. Evaluate The Amount Of THC Contained In The Product
If you're seeking THC-free CBD alternatives for CBD tinctures or CBD oils, Broad-spectrum and Isolated CBD products may be of your interest. You can exclude CBD oils without THC from the Full spectrum CBD oils search list because they include a little amount of THC (less than 0.3%).
Full-spectrum CBD oil fulfills the criteria where all organic cannabis plant compounds like CBD, CBC, CBN, CBG, and no more than 0.3% THC are present. In contrast, Broad-spectrum oils contain a similar cannabinoid profile without any presence of THC. Without these two, isolated CBD is the third major CBD product category that contains nothing but pure CBD extract. These are the major three types of CBD products and may contain little to trace amount of THC, which again is very unusual to create any mind-altering 'highs'.
03. Look For Products' Quality Test Report
Always prefer companies that provide third-party lab test results or certificates of analysis (COAs) of their products. Check the brand's website to figure out if they publish those quality test reports online regularly or not. Certain CBD companies do not publicly advertise these; in such cases, you must approach them personally.
Caution for Buyers: There are manufacturers who purposefully develop products that seem to be CBD-infused, but are originally produced with hemp seed oil, which contains no CBD. To ensure you have a real CBD product, look at the product's third-party lab test reports rather picking one produced entirely of hemp seed oil.
04. Always Choose Products That Showcases CBD Concentrations On Labels
The COA may appear perplexing at an initial glance, but it is not tough to comprehend. In general, the CBD and THC concentrations must be verified and matched to the values on the product description label. Also, ensure that there are no hazardous chemicals on the product, such as pesticides, heavy metals, or molds. Finally, you may consider the hemp source and production method of the product to ensure you are only choosing the best.
05. Try To Know The Meaning Of The Terms Printed On Product Label
Irrespective of the kind of CBD product you choose, it is critical that you conduct your personal research prior to actually purchasing one. Unlike other medicines or supplements, the FDA does not fully regulate all CBD products out there in the market. As a result, you might find many incorrectly labeled products available for sale. These products will not fulfill the promises made on their labels. You must avoid them, be certain to purchase only from a trustworthy CBD company.
06. Beware Of Brands That Promote False Medical Claims
There should be no medicinal claim on CBD oil labeling. In ways similar to any prohibited substances, the FDA supervises and controls medical efficacy claims. The FDA has issued letters of caution to several firms selling CBD products using labels saying the ingredients may treat, cure, and prevent severe illnesses. However, many firms follow FDA rules willingly and forbid unchecked statements on product labels. Terms like "prevent", "cure", "decrease", and "treat" might be warning signs indicating that the vendor might be substantially manipulative in nature.
Summary: What To Look For While Shopping CBD Oil?
In this CBD Oil Buying Guide, we tried to provide you a clear understanding of "What to Look for When Buying CBD Oil, Avoiding Common Mistakes". You can accomplish this by selecting a product that follows "Good Manufacturing Practices" (GMP) throughout its whole manufacturing life cycle, from seed to shelf. When it comes to selecting CBD products, our advice is to stay with high-quality products provided by reputable brands like MEDOSI.
MEDOSI provides a wide range of premium CBD oils. Our primary concern is the happiness and satisfaction of our customers, which represents our fundamental company values. Our facilities are cutting-edge, FDA-registered, and cGMP-compliant, and our products have undergone rigorous trials and testing by entirely independent ISO-certified third-party labs. Each product comes with a Certificate of Analysis (COA) that details what's in it and what you'll find. There are ingredient lists and third-party analytical testing that will provide you with proof of the products' consistency and quality.
We welcome you to explore our extensive collection of CBD products available to buy online. But please counsel your physician before incorporating them into your daily routine. To discover further about the possible health & wellness benefits of CBD products and how to utilize them to improve your overall quality of life, read Medosi Blogs and visit our FAQ Page.