How to Choose A CBD Oil without THC in 2021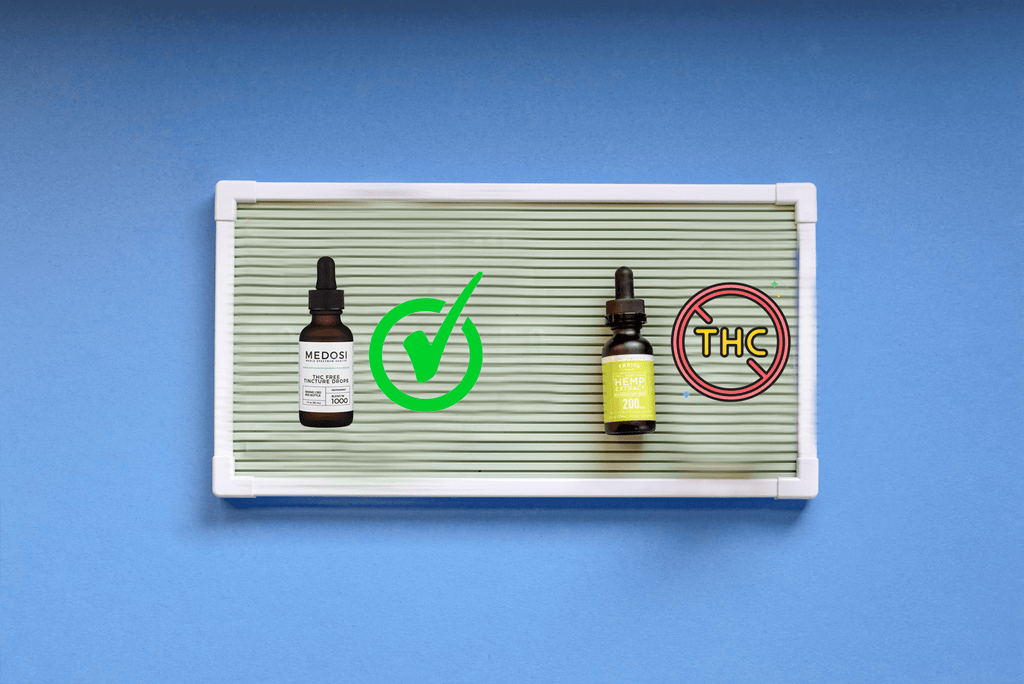 If you are going to try CBD for the very first time, the first question that might come to your mind is "Will CBD make me feel high?" Well the answer is no and now it is scientifically proven that CBD doesn't create any euphoria. This is particularly true when you are consuming CBD without THC also known as broad spectrum CBD in the market. THC is the mind altering compound creates the mind altering effects associated with cannabis use. While broad-spectrum CBD products contain no THC at all, you can find trace amounts of THC (0.3% or less) in full-spectrum products.
If you are sensitive to THC or worrying about THC drug tests or even want to avoid THC altogether, then you are in the right place. In this article, we will discuss all the facts you need to know while choosing the best CBD oil without THC.
What Exactly is CBD Oil?
The most popular form of CBD products is CBD oil tincture drops. CBD (Cannabidiol) is not only used in CBD oil products but also used in a variety of other CBD infused product lines. Some noteworthy mentions are:
CBD Edibles:

 

Gummies, Gel Capsules, Tincture Drops, CBD Oral Sprays
CBD Topicals:

 

Cream, Lotion, Balms, CBD topical Sprays
The main essence of CBD oil comes from the Cannabis sativa plant. The manufacturers extract the required CBD compounds from that plant through complex extraction processes. After that, extracted CBD is mixed with a carrier oil for dilution. This carrier oil serves the dual purpose of proper dilution & preservation of CBD. A wide range of oils like: coconut oil, sunflower oil, avocado oil, palm oil, etc. are used as a carrier oil along with CBD. Now the manufacturers can use this diluted form of CBD to create other CBD infused products.
Related: Medosi offers broad-spectrum CBD oil without THC tincture drops that you can incorporate in your daily health and wellness supplement list.
Ingredients you may find in CBD oils apart from CBD
CBD is one of the cannabinoids among more than 1000 cannabinoids present in cannabis plants. CBD oil may contain other cannabinoids or cannabis plant compounds apart from CBD. Which may be subject to product types. These may comprise:
(THC) or Tetrahydrocannabinol:

 

THC is a kind of organic chemical called phytocannabinoids or plant-based cannabinoids found naturally in cannabis plants. In general people encounter THC as the psychoactive compound, which gives them the high of cannabis. Albeit, some CBD oils may contain up to 0.3% THC. This tiny amount of THC is probably not going to influence you with euphoric effects. However, CBD without THC products can be found in abundance in the market.
(CBC) or Cannabichromene:

 

CBC is one of the most common phytocannabinoids present in the Cannabis sativa plants. Like CBD, it doesn't cause a sensation of being high.
(CBG) or Cannabigerol:

 

The Cannabis sativa plant also contains CBG, which is becoming popular these days. Because of the fact that when present in broad spectrum CBD, it increases the overall bioavailability.
Terpenes:

 

Terpenes are compounds present in high concentration in cannabis plants that are responsible for the aroma. Though many people commonly associate them with cannabis, however they are commonly present in numerous other plants. Specifically in herb & fruit plants.
(CBN) or Cannabinol:

 

CBN is almost an equivalent cannabinoid to CBD. Nevertheless, CBN is produced by the oxidation process that takes place on plant leaves. This photosynthesis process transforms THC into CBN by the grace of sunlight & heat. Similar to CBD, CBN is probably not going to cause you to feel high.
Types of CBD Oils
There are three unique kinds of CBD oils. The critical distinction between them is defined by the measures of various cannabinoids they contain. They are as follows:
Full-spectrum CBD Oil:

 

Full spectrum CBD also known as whole-plant extracts, implies that the oil comprises all the cannabinoids that are typically produced in the cannabis plant. Which also includes a lab controlled amount of THC up to 0.3%.
Related: Full spectrum vs Broad Spectrum CBD : What's The Difference
Broad-spectrum CBD Oil:

 

This sort of CBD oil will contain all the cannabinoids organically produced in the plant aside from THC hence called CBD without THC. Broad spectrum CBD is the combo of many Cannabinoids along with CBD. Where all the ingredients of full spectrum CBD are present without THC. However, a few products may contain tiny traces of THC varying from brands to brands.
Related: What Exactly is Broad Spectrum CBD Oil | Explained
Isolate CBD Oil:

 

Among the three main types of CBD oils, isolate CBD oil contains nothing but CBD. In other words, isolated CBD refers to CBD products which contain no other cannabinoids except CBD.
CBD Oil without THC
CBD is one of the cannabinoids among more than 1000 cannabinoids present in cannabis plants. Exploration on CBD is in the beginning phases, and numerous researches are continuing at a progressive rate. In the meantime, a few research studies show that CBD has some potential health benefits. You may use CBD products to get assistance with torment, hypertension, pain, sleep deprivation, and many more health conditions. 
According to what we discussed above, there are two variance of THC-Free CBD oils available in the market. These are: CBD Isolate and Broad Spectrum CBD. 
In isolate CBD oil you will get only CBD. To say otherwise, you'll have a product that is free from any other cannabinoids including THC but CBD. Any pure isolate CBD oil should not contain any THC or some other cannabinoids except CBD. 
On the other hand, broad spectrum CBD oil is the fusion of CBD along with many other phytocannabinoids, flavonoids and terpenes. Terpenes are compounds that create the aroma. Like cannabinoids they may have health benefits. Flavonoids are naturally occurring compounds found in all sorts of plants. Like terpenes they also have some therapeutic benefits.
Difference between CBD and THC
To understand the difference between THC and CBD in a clear manner, first you need to understand how they interact with our body's Endocannabinoids system. The (ECS) or endocannabinoid system consists of cannabinoid receptors, endocannabinoid molecules, and their metabolic enzymes. In a word, ECS is a complex cell signaling system that the body utilizes to maintain homeostasis.
THC's effects on our body's ECS
THC is the principal psychoactive compound found in cannabis and basically attributed to recreational marijuana consumption. Additionally, almost all over the world THC is illegal because of the euphoric effect it creates. In spite of the fact that THC has shown some therapeutic benefits, the psychoactive effects make it troublesome for general consumers. 
At the point when an individual smokes marijuana, THC overpowers the endocannabinoid system, rapidly joining cannabinoid receptors all through the cerebrum and body. Research found that THC basically binds with the CB1 receptors situated in the brain cerebrum and major nervous system. Initiating these receptors as active, our body undergoes through an ordinary inflammatory reaction while we feel an euphoric, psychoactive state by the process.
CBD's effects on our body ECS
In contrast, CBD doesn't show much affection for connecting to ECS receptors, like THC. This way, CBD's actions vary from that of THC. CBD carries on like a modulator by fortifying territories of shortcoming in the ECS or endocannabinoid system. CBD works side by side with the plant-based and body-made cannabinoids to encourage its capacity to tie with CB1 and CB2 receptors. 
At the point when an individual takes CBD based products, CBD encourages the CB1 and CB2 receptors' capacity to tie with cannabinoids. CBD invigorates the body's creation of endocannabinoids count. Research shows that CBD also eases back the breakdown of the endocannabinoid like anandamide.
Right CBD Potency Calculator
Once you settle to buy a CBD oil, you will come up with a number of variations including product strengths and bottle sizes. Potency depends on the absolute count of CBD in milligrams per bottle size (i.e.: mL or Oz) mentioned on the label. To measure potency, simply divide the amount of CBD mentioned in milligrams on the container by the size of the bottle in milliliters. For instance, a 30 milliliter bottle size with 600 milligrams of CBD has an intensity of 20 milligrams for every milliliter. This way, you can easily calculate the potency/strength per servings. Some brands also mention the strength per servings on the product label.
Now a question may arise in your mind, "How will I decide which potency is right for me?" Well it depends on how much CBD you want to consume. If you consider yourself as an experienced CBD user, you may already know your daily intake of CBD in milligrams (mg). Consider purchasing a product with higher potency (i.e.: 50mg/serving. That way you get your daily dose of CBD with minimum servings per day.
For new users it is recommended you start with a lower potency CBD oil and gradually increase the strength. Make sure you are not experiencing any side effects while increasing your daily dosage of CBD oil. It is most likely that you will first buy a product that comes with the lowest possible strength at lowest price. But if you really want to get the desired effect, we recommend you buy one that has mid-high potency. Again, you are always in control of how much CBD you are taking. What will happen with high a high potent product is that you will get your desired effect with a few drops of CBD oil.
Related: How Much CBD Oil Should I Take? | Complete CBD Dosage Guide!
Advantages of CBD Oil without THC
Convenient for THC Sensitive Users
Though it's very uncommon, there are individuals who show sensitivity to THC, even from small amount of THC (0.3% or less) present in full-spectrum CBD oil products. Choosing a THC free CBD oil (broad-spectrum or isolate) instead of a full spectrum CBD oil might be the most ideal alternative for you in such a scenario. 
However, if you're taking CBD oil to achieve therapeutic benefits, you should seek advice from your medical expert. Ask them and know beforehand if there are any THC interactions involved with the drugs you are currently using as your day to day medication.
Stay Worry-free during THC Drug Test
The mainstream reason, CBD consumers pick a THC free CBD oil is to pass the THC drug test. Even if you take high doses of full-spectrum CBD oil with a trace amount of THC present on the product, you won't feel high. However, our body fat can store THC.
Long term use of full spectrum CBD oil can cause metabolites to build-up in your body. It can cause issues if you get marijuana drug test on a regular interval.
You can skip such circumstances by using CBD oil without THC. Choose only broad spectrum or isolate CBD oil products.
Affordable Pricing
Production of CBD isolate starts with the extraction of a whole spectrum cannabis sativa plant. Then went through additional industrial processes to eliminate any remaining cannabinoids, terpenes, plant esters and other compounds to segregate CBD. 
Since producers don't need to stress over saving delicate cannabinoids and terpenes from the main extracts, they can process hemp at a larger quantity to separate CBD isolate. The end product of this process is a fine crystal form of CBD. Usually, this pure CBD isolate crystals is then offered as white label CBD in bulk amounts to brands hoping to develop a wide range of CBD products. 
Isolate CBD oil might be the most affordable option when it comes to pricing, we suggest you do the background check before selecting one. As CBD isolate is not risk free for being over processed.
Shoppers Guide for CBD Oils without THC
In case you're searching for a CBD oil without THC, you should put your focus on broad-spectrum CBD and CBD isolate products. Remove full spectrum CBD oils from your search list, as those products will have a trace of THC. 
Regardless of what CBD product type you are going to choose, it's crucial you do your own homework prior to purchasing one. Unlike other drugs and supplements, the FDA doesn't regulate all the CBD products that are available in the market. So it is unlikely that you will not encounter mislabeled products. Such products won't deliver what is promised on their label.
To sidestep these, be certain you're purchasing from a legitimate CBD company. Search for those brands that showcase (COAs) or Certificates of Analysis for the products they are offering from a renowned 3rd party lab. Look at the company's website to find if they are sharing this information or not. Some CBD companies do not showcase this publicly, you can directly contact them in such scenarios. 
At first impression, The COA may look puzzling, however it's not difficult to figure out how to understand them. Basically, you need to check the CBD and THC content and ensure it coordinates with the numbers marked on the product's label. Then verify that the product doesn't contain any toxic compounds like pesticides, heavy metals or molds.
The last thing you can take into consideration is from where the company is sourcing their hemp and their production process.
Takeaway
There are numerous advantages you can obtain from CBD without THC. However, CBD alongside with organically happening other cannabinoids and terpenes convey more therapeutic impacts on (ECS) or endocannabinoid system of our body. 
In case, you need to keep yourself restrained from THC altogether, your most ideal alternative to Full-Spectrum CBD oil is THC-free Broad spectrum CBD oil. We at Medosi offer absolutely THC-free broad-spectrum CBD oil tincture drops. It is physician formulated and has no detectable trace of THC. This product has a potency of 1000mg CBD per 30mL bottle with a serving size of 33mg CBD per 1mL servings.
You can also have a look at our wide range of full-spectrum CBD oils starting from CBD strength of 500mg to 3500mg and comes with natural mint flavor.
You can make the most out of CBD oil only by choosing a product that followed its journey from seed to shelf with "Good Manufacturing Practice" (GMP) in place. We work alongside farmers to produce the safest, best quality hemp on the market. Our laboratories are state-of-the-art, FDA registered and cGMP compliant, and our products are tested numerous times by independent, third-party ISO-certified labs. Every product has its own Certificate of Analysis that shows what's in our products and where they came from.
Regardless of whether you pick our full spectrum CBD tincture drops or broad-spectrum, CBD without THC tincture, you can have confidence in our product's unparalleled quality, and trustworthiness that reflects our core company values. 
To get more familiar with the potential health benefits of CBD products and how you can utilize them for your overall well being, you can read Medosi's blog and can also go through our frequently asked questions page.