CBD Oil Tinctures vs Capsules: Differences & How to Choose the Best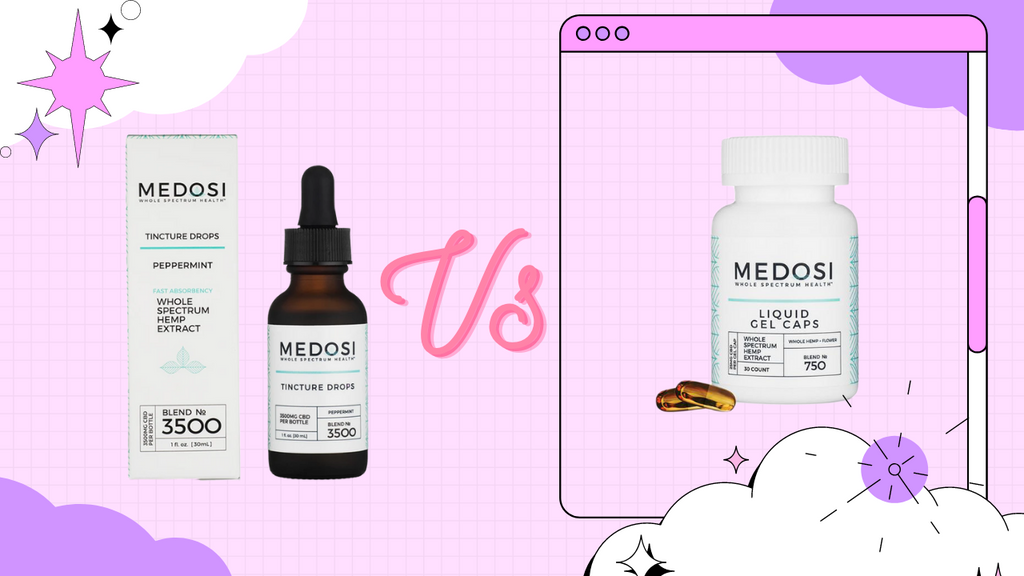 CBD products are used by one out of every seven Americans. These days CBD can be infused in any product, starting from beverages to face serums, gummies, tea, coffee, skin rubs, oils and tinctures, vapes, capsules and more. But CBD oil tinctures and capsules are clearly the most famous among them. 
It can be difficult to determine which CBD form is best for your lifestyle when you first start using it. So, eventually people ask: Are CBD oil tinctures better than CBD capsules? And, for those who prefer capsules, do they deliver the same CBD concentration per dose as other methods? If you're unsure which is better for you, keep reading to learn about the main differences between CBD oil tinctures and CBD capsules.
In this article, we will discuss CBD oil tinctures vs capsules with differences & how to choose the best option for you. Learn everything you need to know about CBD capsules, including their possible benefits, where to buy them, and how they vary from CBD oil tinctures. Understanding the difference between CBD capsules and CBD oils will give you the confidence to select the best product form for you and your daily CBD plan.
CBD Capsules Vs CBD Oil Tinctures: Differences
The physical structure is the most obvious distinction between the two most popular CBD product choices. Capsules are clear gel pills in capsule shape as the name implies. The oil, on the other hand, is liquid and preserved in bottles. Another key difference is the quantity and potency of CBD contained per serving.
Medosi offers CBD Capsules in dosage of 25mg CBD per gel cap. Capsules are a convenient, easy, and portable option for anyone looking for precise serving volumes, as the milligrams are mentioned per capsule.
Medosi's CBD Oils are available in three various strength levels as full spectrum: 500mg, 1,000mg, and 3,500mg. These figures reflect the total amount of CBD in the bottle. You can also enjoy our premium broad spectrum aka THC-Free CBD Oil which comes in 1,000mg CBD per bottle.
On the back of the bottle, there is a serving size marker (a complete dropper) that tells you how much CBD per serving is present in milliliters (ml). To determine the desired serving size, simply read the dropper's indicating lines within the container.
What is a CBD Oil Tincture?
Nowadays CBD oil tinctures are the most popular and possibly most well-known CBD product available on the market. A single droplet of CBD oil tincture can provide you the full range of cannabinoids, each with their own distinct properties.
Extracting CBD oil, just like other CBD products, begins after the hemp plants. Industrial hemp plants enriched with higher concentration of cannabinoids are collected from the fields and transported directly to the facility for CBD extraction. The end product is cannabinoids rich liquid CBD oil, thanks to the most efficient CO2 extraction process.
CBD oils can vary in several types due to diversified extractions of hemp plant components for a variety of purposes. CBD oils with a complete range of cannabinoids aka Full-Spectrum contain more than one cannabinoid which remains under the legal THC threshold of 0.3%. Broad-Spectrum aka THC-Free CBD oil contains many cannabinoids without any THC content. Whereas, Isolated CBD oil only contains nothing but cannabidiol.
Advantages of CBD Oil Tinctures
The rapid absorption of CBD oil tinctures into the body is a major benefit. Taking one complete dropper of cannabinoids sublingually (under the tongue) guarantees faster cannabinoid delivery into the system. This may result in more noticeable benefits than taking a CBD capsule.
Droppers also allow you to control the dosage level of CBD per serving. If you don't see any results from taking CBD oil, you can raise the dose of tincture you're taking. If you don't like the outcome of a stronger CBD oil, you can lower the amount of tincture without purchasing a new bottle of CBD oil. This enables you to play around with different dosage levels before you figure out what works best for you.
Disadvantages of CBD Oil Tinctures
On the flipside, CBD oil tinctures can have a natural flavor. Many people characterize the natural taste of CBD oil as "woody" or "earthy" even when it is flavored. It might be tough to take any tincture drops if its flavor profile does not appeal to your palate. 
CBD oil tinctures often have the disadvantage of transport difficulty. If you bring CBD oil in your traveling luggage, you might be asked more questions about what's inside. In this scenario, CBD capsules rather than CBD oil may be a better alternative.
What are CBD Capsules?
Just like CBD oils, capsules were meant to make CBD oil consumption a simple and convenient operation. They're made in a different way than standard CBD tinctures, though.
CBD capsules are available in two types, similar to CBD oil: CBD isolate (a powder-like material sealed into a softgel capsule) and CBD oil softgel capsules. This necessitates the use of two separate extraction methods. The CBD softgel capsules can also be known as CBD gel caps on the market. 
Cannabinoids for softgel capsules are extracted from the cannabis plants in the same manner as CBD oil. Instead of putting CBD oil into a tincture, the oils are put into softgel capsules. CBD oil is also mixed with other carriers, such as olive oil, hemp seed oil or hemp oil. These mixtures are then filled in the capsule which help you to absorb the CBD faster.
The manufacturing procedure is very similar for CBD isolate capsules. In case of CBD isolate, the final product comes out as a pure white crystalline powder form rather than liquid CBD. Then it's combined with another carrier agent, usually coconut oil or MCT oil for better absorption rate. Finally the mixture is sealed into capsules.
The Advantages of CBD Capsules
CBD capsules' flexibility and ease of use are two of their strongest features. A capsule can provide a discreet way to consume cannabinoids without creating too much attention for those who choose to consume CBD during the day. You may simply take them with water and avoid the flavors found in CBD oil tinctures.
The Disadvantages of CBD Capsules
Your stomach will break down CBD isolate or CBD oil capsules before they can be absorbed into your system. As a consequence, a capsule cannot provide instant relief, which can be disappointing. Furthermore, since CBD capsules contain other potential ingredients such as extra virgin olive oil, hemp seed oil or hemp oil which raise the risk of unintended negative effects. Therefore, make sure you're familiar with all of the ingredients before you decide to take CBD oil or capsules.
CBD Oil Tinctures Vs Capsules : How to Choose the Best
To begin, consider why you'd like to use CBD. What makes you want to incorporate CBD into your daily routine? If you want to integrate CBD into your daily routine in a manner that doesn't require guesswork or exact measurements, or if you need anything compact, a capsule might be a good option.
The next step is to choose the CBD extract that you like. CBD extracts are divided into three categories: Full-Spectrum, CBD isolate, and Broad-spectrum. 
Full-spectrum hemp extract is directly derived from the plant material, and therefore includes all cannabinoids, terpenes, lipids, and other plant constituents. The THC content has been omitted from the broad-spectrum extract. CBD isolate is made up of 99 percent CBD and no other plant materials.
Full-spectrum and Broad-spectrum formulations help to promote what is known as "the entourage effect". This is where all the plant compounds function synergically to achieve the best results. Although scientists are still studying this mechanism, you might want to see whether terpenes and minor cannabinoids might help you improve your current wellness routine.
Related: Before using any CBD products, you may have questions such as, "How much CBD can I take?" Read our post on "How Much CBD Oil Can I Take? | Complete CBD Dosage Guide!" for a good understanding of CBD dosage, potency estimates, and more.
Bioavailability of CBD Oils
The bioavailability of hemp-derived CBD oil determines its effects. The amount of CBD absorbed into your bloodstream is referred to as "bioavailability." The amount of CBD you take and whether you take it in the form of an oil or a capsule will have a big impact on its bioavailability.
Many people take CBD as a sublingual oil under their tongue. We name this "sublingual" because "sub-" means "under" in Latin. The word "lingual" means "tongue." When cannabinoids are swallowed in this manner, they are absorbed immediately into the bloodstream through capillary walls in the mucous membrane.
The bioavailability might be around 20 and 30 percent in this case, which ensures that 20% of the cannabidiol in the dosage is absorbed into the bloodstream. In a 25 mg dosage, you may hope to obtain 5 mg of CBD absorbed into your system at least.
Bioavailability of CBD Capsules
The main difference between CBD oil and CBD capsules is the absorption rate.
This means that CBD capsules taken orally are first digested by the stomach and liver. CBD oil bypasses the digestive process and is absorbed through your tongue.
As a result, the bioavailability of a swallowing CBD capsule varies between 13 to 19 percent. That means you can hope to get somewhere around 3.25 mg to 4.75 mg of CBD into your bloodstream through a 25 mg capsule.
CBD Capsules Vs CBD Oil Tinctures: Shoppers Guide
If you're looking for THC-Free CBD options for both CBD oil tinctures and capsules, you can look into broad-spectrum CBD and CBD isolate products. Excluding CBD oils from the search list of the full spectrum family, as these items have a trace amount of THC.
Regardless of the type of CBD product you select, it is important for you to do your own homework before you buy one. In contrast, the FDA does not control all CBD products on the market, unlike most medications or supplements, so mislabeling of goods is not uncommon.
Make sure to buy from a reputable brand to sidestep those products. Choose brands that rigorously test their products via third party laboratories and provide (COAs) certificates of analysis.
The COA can look puzzling at first impression, but it is not difficult to understand. In principle, the CBD and THC contents should be checked and coordinated with the numbers indicated on the label of the product. Then make sure that no harmful compounds, such as pesticides, heavy metals and molds are present in the product.
CBD Capsules Vs CBD Oil Tinctures: Which one is Better?
This question, like all CBD questions, has a very personal answer. Consider your individual preferences before deciding between CBD oil and capsules. Do you want to put the speed of effects first? Take a CBD oil tincture with you. Is convenience your top priority? Then CBD capsules should be your first choice. If you're hypersensitive to new flavors, the same goes for you.
In brief, CBD oils and capsules have similar effects and cost almost the same, although there are some minor variations. After you've decided your CBD preferences, all you have to do is double-check the details of your CBD product before buying one. This will strive to deliver the highest-quality CBD possible. It's also a red flag if a CBD company doesn't have a transparent ingredients list or certificates of analysis.
Takeaway
It depends on personal preference and taste when it comes to choosing between CBD capsules vs CBD oils. Both have benefits, and so it's down to you to determine if the advantages of CBD capsules overshadow the advantages of oils with your lifestyle. In any manner, premium CBD Products offered by MEDOSI will assist you in achieving mental and physical equilibrium.
CBD capsules are simple to add into your daily health & wellness supplement regimen. You may prefer CBD tinctures, if you are comfortable enough to take it under the tongue. Whereas, CBD capsules can be taken with a bottle of water, eliminating the need to hesitate if you're in a rush.
You don't have to pick between the two, however. Bring a CBD oil tincture drops bottle at home and take capsules on the go to ensure that you have CBD anytime you need it. CBD products like topical Roll On gel, Relief Cream and edible Vegan Gummies will also be good alternatives for you & beneficial to your overall health.