CBD for Pain Management: Learn Whether It Works or Not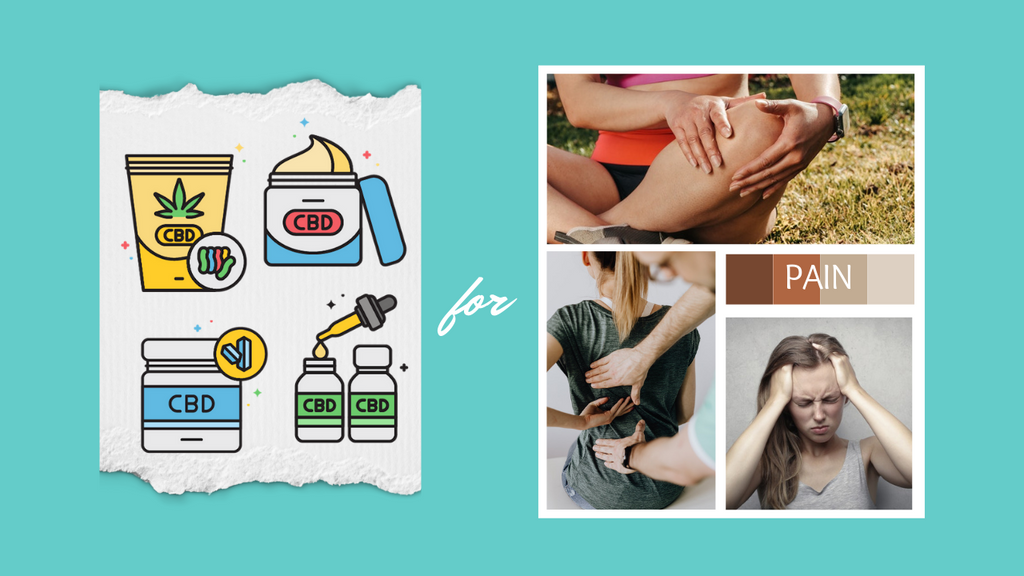 Millions of people suffer from chronic pain, whereas traditional medications have unwanted side effects and often fail to provide satisfactory results. So, there are many out there who are looking for an alternative pain medication. Some turn to CBD, hoping that it can help manage their pain. But, can CBD for pain management a good option for you?
CBD is a popular alternative for individuals seeking relief from numerous health conditions. Research suggests that CBD may help treat pain, anxiety, insomnia, migraine, and other medical conditions. However, much remains unknown about CBD, including its potential role in pain management.  
So, if you are seeking ways to alleviate pain keep reading to learn how CBD might help. This article will critically review whether or not CBD can be an option for you, and we will also look at the latest research and their finding on CBD for pain management.
A Quick Overview Of CBD
Cannabidiol referred to as CBD, is a plant originated compound of the cannabis plant family and is currently becoming popular for managing pain of certain types. Cannabidiol (CBD) can be extracted from various cannabis plants, including Indica and Sativa. Hemp is a type of Sativa cannabis plant which contains less THC.  
Hemp-derived CBD is legal under federal law. Although the federal government has not legalized non-hemp marijuana-based CBD, it is still legal in a handful of states. 
CBD is becoming increasingly popular for individuals who want to avoid the "high" feeling that comes with marijuana. Because, unlike its psychoactive counterpart, THC, CBD does not cause the "high" feeling and is non-addictive. 
According to a study, without the psychoactive effect of THC, CBD appears to have anti-inflammatory, analgesic (pain relief), muscle relaxant, and anxiolytic (anti-anxiety) properties. 
According to research published in 2018, Cannabinoids like CBD and the Endocannabinoid Receptor System (ECS) may have a role in several body activities, including pain management. CBD may be beneficial for the following conditions: 
Seizure 
Migraine 
Anxiety 
Neuropathic Pain 
Cancer-related Pain 
Systemic Inflammation 
Rheumatoid Arthritis (RA) 
Fibromyalgia (also referred to as widespread pain) 
Irritable Bowel Syndrome (IBS) 
Osteoarthritis (OA) 
Post Traumatic Stress Disorder (PTSD) 
The potential benefits of CBD have led to it becoming a popular treatment option among people with chronic pain. A survey of over 1800 people with chronic pain found that 25% of respondents reported using cannabis products, including CBD, to manage their pain.
How Does CBD Help With Pain Management? 
Do you struggle to fall asleep? Is your back hurting? 
CBD has the potential to help with all these health issues. It can help with arthritis pain, back pain, migraine pain, and certain digestive issues. CBD may even improve the effectiveness of other difficult-to-treat conditions.  
CBD affects the PNS (peripheral nervous system) and the body's processing center, also known as the CNS (central nervous system). The brain and spinal cord are both parts of the CNS. CBD also affects the body's immune system. CBD has antioxidant, anti-inflammatory, and pain-relieving properties when blended with our endocannabinoid system. One study shows that CBD may help minimize nerve damage and lower the development of osteoarthritis.
How CBD Works
Our body naturally produces endocannabinoids, and endocannabinoids function on demand. Our body's endocannabinoid system consists of three key elements:
Cannabinoid receptors:

 

Cannabinoid receptors are found all over the body. As of now, there are just two cannabinoid receptor subtypes: CB1 and CB2. CB1 receptors are mainly located in CNS (central nervous system). These receptors are responsible for marijuana's cognitive and emotional effects as well as our pain sensation. CB2 receptors are present in our WBC (white blood cells) and PNS (peripheral nervous system). 
Endogenous cannabinoids:

 

Endogenous cannabinoids are spontaneously occurring lipids that the human body generates. Two of the most familiar endocannabinoids include 2-arachidonoyl glycerol (2-AG) and arachidonoyl ethanolamide (anandamide). 
Enzymes:

 

Enzymes assist in the breakdown of cannabinoids. 
When our bodies identify inflammation or desire to return to homeostasis (an equilibrium condition), they release endocannabinoids. CBD interacts with endocannabinoid receptors in your brain and immune system cells. These receptors are responsible for receiving chemical messages into your cells, resulting in a sensation of pain. CBD, on the other hand, produces a pain-relieving effect.
Research Findings On CBD's Effectiveness For Pain Management
CBD binds to cannabinoid receptors less strongly. However, according to one study on mice, CBD may engage with neurological receptors in the spinal cord that decrease chronic inflammatory pain. CBD may enhance the pain-relieving effects of anandamide (AEA), an endogenous cannabinoid.  
According to a small study published in 2018, the pain-relieving effects of CBD were observed in seven individuals who had received kidney transplants for chronic pain. Six of the seven people who took part in the study said they were in less pain. One participant reported more pain at higher CBD dosages, but lower CBD dosages resulted in improved pain control. 
Individuals who took part in the study expressed favorable opinions about CBD treatment choices.  
Furthermore, the users who utilized CBD for pain-related issues experienced satisfactory results, according to the study published in 2021. 
CBD products and pain management have shown to be beneficial so far in scientific studies. More studies and clinical trials are necessary, yet initial findings suggest CBD can aid in pain management.  
The following are some of the findings that we have found thus far about how CBD may be used to reduce pain.
CBD For Relieving Arthritis Pain
Arthritis, also known as joint inflammation, refers to a wide range of conditions that causes discomfort in the joints and surrounding tissues. Pain, swelling, restricted range of motion, and stiffness are the typical symptoms of arthritis, which tend to deteriorate with time. The most prevalent forms of arthritis are as follows: Osteoarthritis (OA) and Rheumatoid arthritis (RA).  
In animal research, CBD showed anti-inflammatory and pain-relieving effects. Topical CBD relieved arthritis-related joint inflammation and discomfort in rats, according to a 2015 study on animals. 
According to another journal titled "Cannabidiol for Pain Treatment: Focus on Pharmacology and Mechanism of Action," In both animal and preclinical experiments, CBD has shown potential as an anti-inflammatory agent, which implies how CBD has a positive impact on arthritis treatment. However, the use of CBD for arthritis treatment is less extensive and continuous.
Research Findings On Rheumatoid Arthritis Patients
The first-ever controlled trial of a cannabis-based medicine (CBM) was done in 2006, and it focused on people with rheumatoid arthritis. Rheumatoid arthritis is an autoimmune disease that causes joint pain, including in the hands and feet, as well as stiffness, swelling, and damage all over the body. According to the researchers, Sativex medication resulted in a strong analgesic effect and a considerable reduction in disease activity. The participants reported no change in morning stiffness, and minor adverse effects to the treatment, with no effect-related withdrawals.
Research Findings On Osteoarthritis Patients
For 12 weeks (about 3 months), researchers examined the effectiveness of topical CBD gel on patients with osteoarthritis-related knee discomfort in 2018. Patients received one of two doses: 250 mg (about the weight of ten grains of rice) or 500 mg, twice a day. Overall, CBD did not significantly improve patients weekly pain scores compared to placebo. The researchers, nevertheless, discovered that patients who took 250 mg of CBD every day had a significant edge over placebo participants in terms of average weekly worst pain scores and Western Ontario and McMaster Universities Arthritis Index (WOMAC) physical function scores.
Research Findings On Fibromyalgia Patients
Another study published in 2019 reveals that combining CBD and THC may help people with fibromyalgia. It is a condition causing discomfort and tenderness throughout the body, sleeplessness, tiredness, as well as emotional and mental anguish. After a single inhalation of CBD-THC combo, the study found that it outperformed placebo and either substance alone.  
While some persons with arthritis have used CBD, not all of them report significant pain reduction, improved sleep, and reduced anxiety. Furthermore, more research is necessary.
CBD For Relieving Chronic Pain
While the research on CBD for pain relief is still in its early stages, some evidence suggests it could be a promising treatment option for those who suffer from chronic pain. Most studies that have been conducted on CBD and pain relief have been done on animals, which has shown promising results.  
CBD was helpful in reducing chronic pain, according to an article titled "Cannabinoids and Pain: New Insights From Old Molecules." This research covered a variety of forms of pain, including: 
Neuropathic pain 
Cancer-related pain 
Rheumatoid arthritis 
Osteoarthritis 
Fibromyalgia 
Mixed chronic pain 
Based on this article, CBD effectively alleviated overall pain and did not produce harmful side effects, as determined by researchers.  
Currently, in the United States, no CBD-based medicines are permitted as painkillers. Epidiolex is the only CBD drug authorized by the Food and Drug Administration (FDA). This drug is intended to treat rare kinds of epilepsy.  
Most users reported satisfactory results who use CBD for several reasons, including chronic pain. Most participants said they would recommend CBD to others with similar issues.
CBD For Relieving Migraine Pain
The term "migraine" refers to a neurological condition characterized by mild to intense headaches. Some of the symptoms include light sensitivity, nausea, and vomiting. Although research on how CBD can alleviate migration pain is limited, CBD has still shown some promise in reducing migraines in rats and humans.  
A study on rats found that CBD could help to reduce inflammation and pain response to surgical incisions. The researchers suggest that this effect is due to CBD's ability to reduce inflammation and pain response by interacting with the body's endocannabinoid system.  
A study on humans published in 2018 found that a combination of THC and CBD effectively reduced migraine intensity. In a two-phase trial, some chronic migraine patients took a combo of two compounds. One compound contained 9% CBD and 0.4% THC, whereas the other compound had 19% THC. Doses were ingested via the mouth.  
The researchers found that doses less than 100 mg had no effect in the first phase. But acute pain intensity decreased by 55% whenever administered a 200 mg oral dose during a migraine episode. 
In the second phase, patients with chronic migraine received either 25 mg (about the weight of a grain of rice) per day of Amitriptyline (an antidepressant) or a combo of THC and CBD 200 mg (about twice the weight of a business card) per day for three months. The combo of THC and CBD 200 mg prophylaxis for migraine patients resulted in a 40.4% better outcome than Amitriptyline's 40.1%.  
Cluster headaches patients also responded positively to CBD and THC combinations, but only if they experienced a childhood migraine history.
CBD For Cancer Related Pain
CBD appears to have extensive therapeutic effects, some of which can be used to address cancer-related pain.  
A study examined CBD and THC's effects on pain in 177 cancer patients who did not benefit from pain medication. Results suggest that those who consumed CBD had greater pain relief than those who consumed the placebo.  
In research on mice, CBD appeared to reduce tumor size significantly. However, most research on humans has focused on CBD in pain management related to cancer and treatment. 
According to the National Cancer Institute, CBD is a feasible option for decreasing chemotherapy side effects, including: 
Appetite Loss 
Nausea 
Pain 
Vomiting 
In a 2010 article, patients with cancer pain received THC-CBD-based oral sprays. The THC-CBD extract was combined with opioids. The findings of this study reveal those patients using the THC: CBD extract experienced a 30% or greater improvement in their pain score compared with those taking only opioid medications. These findings are encouraging, and more research is necessary. 
CBD For Alleviating Neuropathic Pain
Neuropathic pain manifests as burning, stinging, numbness, muscular weakness, or shooting pain all over the body or areas. There is a shortage of CBD studies on neuropathy. However, some evidence suggests that CBD can be beneficial for neuropathy pain.
According to a study published in 2020, CBD oil's transdermal administration can provide substantial pain alleviation and other distressing feelings in persons with peripheral neuropathy or any kind of injury to the peripheral nervous system.
The findings of this study show that the CBD group had a lower incidence of severe pain, sharp pain, cold and itchy feelings than the placebo group. There were no negative effects in this research.
How To Choose The Best CBD Product For Pain Management
One question may pop up in your mind: Is CBD really that beneficial, or is CBD worth all the attention?
Yes, if you are seeking a natural pain treatment option in many cases.
Choosing the best CBD product for pain alleviation is not easy. There are a few things to keep in mind when buying CBD products. Here is a brief rundown on how to choose the best CBD product for pain management.
Acquaint Yourself With Distinct Types Of CBD
CBD is available in three types, each with its own set of characteristics:
Full-spectrum CBD: Full-spectrum CBD retains the hemp plant's pure, natural form, including additional cannabinoids such as terpenes and minimal amounts of THC (less than 0.3%).
Broad-spectrum CBD: It also includes other cannabinoid compounds, but unlike full-spectrum CBD products that include THC, broad-spectrum CBD products do not contain any THC.
CBD isolate: CBD isolate is 99.9% pure CBD with no additional cannabinoids or THC.
Third-Party Laboratory Testing
It is necessary to verify a product's third-party lab evaluation report and make sure it has a certificate of authenticity (COA). Third-party laboratory testing may be used to check the purity and strength of a CBD product. On the website of a company, look for the following:
Supplementary Ingredients
If possible, pick CBD products that include natural ingredients without any additives to reduce the danger of adverse effects. If you are purchasing a topical, look for organic U.S.-grown hemp in the ingredients list to see if there are any skin irritants, a substance that can cause irritation and inflammation of the skin.
Entourage Effect
The cannabinoids (such as CBD and THC) and other organic compounds, including terpenes and flavonoids found in cannabis plants, appear to work better when combined and can give you the "entourage effect." 
If you want to reap the full advantages of the entourage effect, a full-spectrum CBD product is the way to go. Just keep in mind that if you consume a substantial dose of a strong CBD product, you will be exposed to more THC. It's possible for you to overdose, but it's extremely rare to experience euphoria of any kind. 
Choose A Product That Best Suits You
Before choosing a CBD product, you need to consider the following:
The intensity of your pain
The way you want to take CBD
Onset time and duration of effects
The CBD classification we discussed in the earlier section is based on the extraction method (adopted by manufacturers). Any CBD product can fall under those categories, whether it is a topical product or an edible one.
A dispensary pharmacist or your doctor can assist you in figuring out which form of CBD product (edible or topical) can best suit your pain management scenario. Regardless of product type there are three specific ways to consume CBD. They are as follows:
Take Orally
CBD edibles come in a variety of flavors and shapes, including brownies, gummies, snacks, fruit chews, caramels, and CBD-infused chocolate.
Oil And Tinctures
CBD tinctures and oils are available in tinted glass vials with a dropper. They're more adaptable than other CBD products. You can simply consume raw CBD oil tincture drops sublingually. Furthermore, you can add CBD oil to your favorite food or drink. In case of raw oral ingestion, simply hold the drop underneath your tongue for a while to ensure maximum bio-availability.
Related: how long does CBD stay in your system?
CBD Gummies
Edible CBD gummies do not require adjusting the dosage as tinctures do. All the gummies come with a set amount of CBD in them. Moreover, CBD gummies are delicious and can cater to the needs of those who do not like the raw flavor of CBD tinctures. CBD gummies, like any other CBD product, are available in both full-spectrum and broad-spectrum forms. You may choose from any of the forms.
CBD Gel Capsules
Another convenient form of CBD is a liquid gel capsule or pill. In any case, it is made with the same CBD found in CBD tinctures. You can simply swallow CBD capsules with water. Since they are so easy to consume and carry, you can refill your daily dose of CBD with capsules anywhere, anytime.
Remember that CBD capsules do not work as quickly as tincture drops. CBD is absorbed by your body over a period when you take it in capsule form.
Apply Topically
You can apply topical products to body parts, such as aching muscles or joints. Some familiar topical products are CBD creams, lotions, balms, and ointments.
These products are often the most effective for dealing with localized discomfort, arthritic pain, and neuropathic pain. According to studies, topical application particularly has shown promise in treating arthritic pain.
Inhalation
Another frequently common way of taking CBD is vaping it with a vape pen. The vape juice contains CBD in such cases. However, vaping CBD has been discouraged in recent times by the CDC (Center for Disease Control and Prevention). Inhaling vape juice with a vape pen can be risky as you might also inhale other harmful substances, like heavy metals like nickel, tin, and lead.
When shopping for a CBD product for pain management, you should conduct your own research first. Furthermore, consult with a healthcare practitioner to ensure you are not using any other drug with contraindications with CBD.
Some FAQs Related To CBD For Pain Management
Is CBD Effective In Relieving Pain?
The brief answer is both YES and No.
According to some studies, CBD can be an effective choice for addressing pain of certain kinds. For instance, people suffering from chronic pain and arthritis pain have reported positive experience in many cases.
But you also need to consider that these might become habit-forming and cause additional adverse effects. So, additional study is necessary to assess the pain-relieving properties of CBD oil and other CBD products.
Does CBD Get You High?
No, CBD does not get you high. CBD has no mind altering effects. THC, the other chemical component in cannabis that causes euphoric effects, is not present in CBD. Nevertheless, a few CBD products, include trace amounts of THC and can affect your state of consciousness. You might feel relaxed and experience pain relief.
Can CBD Products Make You Fail A Drug Test?
CBD as a non-psychoactive component of the hemp plant does not show any euphoric properties. Hence, conventional drug tests do not look for CBD in users' sample. Rather, tests actually detect the presence of THC.
You won't fail a drug test if you take CBD in its pure or isolated form. If you are going to take a drug test, avoid full-spectrum CBD products that might contain trace amounts of THC.
How Much CBD Should I Take?
The severity of your pain, the potency of the product, the way you take it, your body weight, and your chemistry all influence the amount that might work for your pain. You can utilize our CBD Dosage Calculator to figure out your initial dose based on your body weight and condition severity. Nevertheless, we suggest you consult your doctor beforehand. The best-case scenario is, to begin with, a low amount and progressively raise it until you get the desired results.
Does CBD Help Blood Pressure?
In regular circumstances, CBD has no apparent effect on this. But researchers are interested in whether it can help you keep your blood pressure stable when you are worried.
How Quickly Can CBD Help With Pain?
Several factors, including your underlying health conditions, kind of product and the way you take it, dosage, all play a role in how quickly CBD can alleviate your pain. You may experience the effects within 15-45 minutes after ingestion.
Key Takeaways
CBD can be a promising alternative for people who are suffering from certain pain conditions. Specifically, those (pain conditions) that NSAIDs can not help much and often times the side-effects outweigh the effects.
CBD products can open a window of opportunity to help in such conditions. But you also need to be cautious about CBD products being advertised as remedies for medical issues. Better avoid those brands that used to make such claims.
You can read other blog posts of ours to learn more about some other purported benefits of CBD. CBD can be a great choice for unwinding at the end of a busy day. It might help you in calming down, ease stress, and have quality sleeps.
Some people think that CBD might help improve their symptoms, even if we don't have all the evidence yet. You and your healthcare provider can review the pros and cons of CBD for pain management in your unique situation.
Disclaimer: MEDOSI publishes informative content pieces on cannabinoid products, their use cases, and anecdotal health benefits. We simply want to educate our customers as well as anyone who has an interest in such topics. Be informed that no material on this website should ever be used as a substitute for personal medical advice from your doctor or other qualified healthcare professionals.