How Much CBD Oil Should I Take? | Complete CBD Dosage Guide!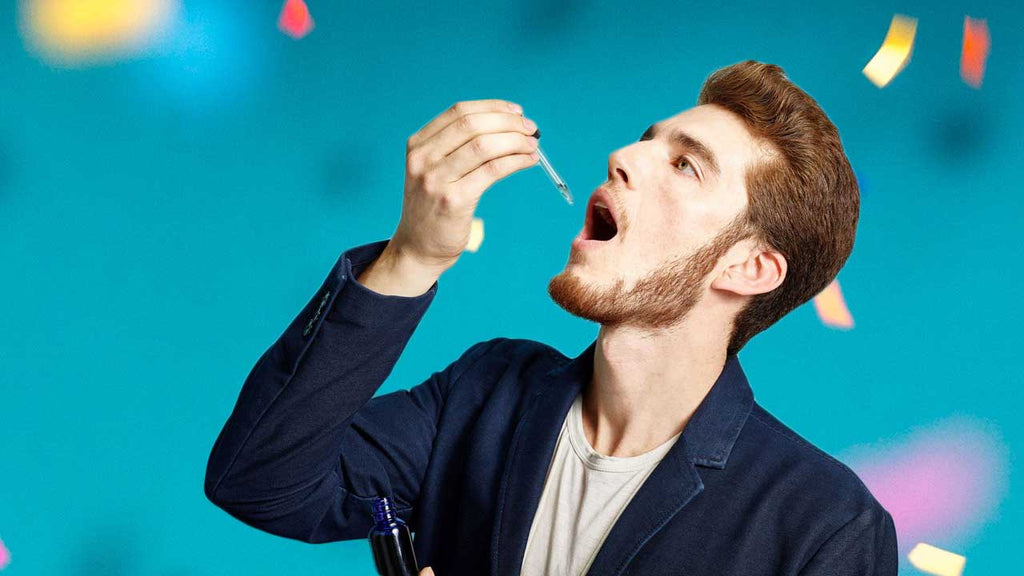 Cannabidiol abbreviated as CBD, has grown in popularity in recent years. Someone in your family or circle of friends may already be using CBD-infused products as a health and wellness supplement. In fact, CBD is now widely available and can be infused in almost any product.
You may have brought a CBD product & are ready to start your CBD journey. But before using that product you may face doubts like 'How much CBD should I take?' Most experts agree that starting with the lowest dose and gradually working your way up is the best way to go if you are using CBD for the very first time.
Recent studies, though controversial, suggest that phytocannabinoids such as CBD can help with certain health conditions. Certainly, this could be the reason for CBD products' massive popularity in the market over the last few years. Starting from CBD bavrages in local café shops to an ever-growing variety of beauty & health supplement products stacked on the shelves of pharmacy chains throughout the United States. 
Now a days, finding a CBD oil and CBD-infused product isn't difficult. But determining the most appropriate CBD dose is a different story. As a matter of fact, the question that first hit your mind is 'How much CBD should I take?'.
Therefore, in this article, we will discuss this very topic. As well as give you a clear idea about CBD dosage, potency calculations, benefits, side effects and more. Here's what you should know before giving CBD a shot for the first time.
Determining Factors: How Much CBD Should I Take?
Before you go out and buy CBD products or start reading about CBD serving bottle sizes, there are factors you should know about. The factors that determine how much CBD you should take are as follows:
➤ Consumption Rate Proportional to Body Weight
The most significant factor in deciding the optimum CBD dosage is your body weight. The consumption rate of CBD products is directly proportional to your body weight. That means, if you're a heavy person, you'll need more active ingredients than someone who is lighter than you.  After all, the same can be true for a variety of regular prescribed drugs you may take on daily basis. Now, you can start your CBD program acknowledging that the size of your dosage gets bigger as you gain weight. If you're confused where to start, we always suggest consulting your physician immediately for detailed health advice as precautions.
➤ The Variance of Product You Are Taking
When it comes to CBD, the results you get can vary depending on the variance of product you are taking. The variance of product depends on CBD types, quality, consistency, potency & efficacy, as well as the delivery system you are using. Some delivery mechanisms like tinctures, have more potency than other forms of CBD. Because that particular dosage is absorbed under your tongue. Which enables it to bypass your digestive system and access your bloodstream instantly.
The type of CBD product you are consuming also plays a great role deciding the perfect CBD dosage for you. Full Spectrum, Broad Spectrum, and Isolates are the types of CBD products available in the market. MEDOSI offers CBD oil products both in Full Spectrum & Broad Spectrum especially in tincture drops. Where we've kept all of the original hemp plant's natural components in both cases. Full-spectrum CBD has the strongest effects on the body as the phytocannabinoids compounds act together synergistically to provide an "Entourage Effect". You will enjoy the same entourage effects in Broad Spectrum as well but without the mind altering THC.
Apart from CBD types, CBD products are also available in various forms including
CBD Edibles: Gummies, Gel Capsules, Tincture Drops, Oral Sprays
CBD Topicals: Cream, Lotion, Balms, Topical Sprays
Depending on the above CBD product forms, the ideal CBD dosage for you also varies.
➤ Body Tolerance Against Cannabidiols (CBD)
CBD is one of the 1000 cannabinoids present in cannabis plants. These plants-based or Phyto cannabinoids interact with the (ECS) or Endocannabinoid System present in our body to alter our mood. Cannabinoids are the plant components present in CBD oil tinctures as well as other CBD based products. But scientists are unaware of the long-term consequences of using these products. According to certain research, the longer you are used to cannabidiol, the greater your body resistance becomes. That means you'll need a higher dosage to achieve the same results. According to other studies, long-term application of cannabidiol does not escalate body tolerance against CBD or other cannabinoids.
➤ Every Human Being is Unique
Each of us has a different body. When you take the same dose as your mate, the dose that benefited him/her can be entirely useless for you. As a result, the dosage will be dictated by the physiology of the body. Of course, you won't be able to tell how your body can absorb CBD from having a look inside, so discovering your ideal dosage will require a lot of trial and error.
As renowned products should come with body-weight ratio dosing guidelines on their labels. Start with a lower dosage for your body size based on the body-weight ratio to help you get it right. You've found the ideal dosage if you have the desired result. If not, steadily raise the dosage by 5mg at a time. Take breaks for several days between changed doses to confirm the body responds properly with that.
You'll be able to find the best dosage for your body chemistry using this process. You can keep track of your CBD consumption data in a report. As this will help you to figure out where you've reached the correct equilibrium.
➤ What Exactly You are Using CBD for
The amount of your dosage can change depending on your objectives. CBD doses for pain relief can usually range from 2.5 to 20mg a day. 
However, studies indicate that treating sleep disturbances can normally require a higher dosage. As a result, the ideal sleep-related dosage may be anything between 40 and 160mg, consumed orally. 
And what if you're grappling with anxiety? In certain clinical trials, high-dosage of oral CBD (150mg-600mg) per day was shown a beneficiary role in the treatment of social anxiety disorder, insomnia, and epilepsy. 
However, some consumers suffered with behavioral sedation at this stage of CBD higher dosage. So, before deciding on your initial dosage amount, keep your CBD objectives in mind and consult with your physician immediately for detailed health advice as precautions.
How to Choose Delivery Methods for Right CBD Dosing?
To pick the right delivery method is the next step for ideal CBD dosing . The following are the three most common CBD consumption methods.
◉ Edibles containing CBD
CBD gummies, capsules, and beverages like CBD tea, coffee are different types of CBD edibles. This process is often the simplest for determining the correct dose. CBD edibles are normally sold in packets, with each dosage consisting of a single capsule or gummy actually contains milligrams of CBD. Edibles are absorbed into the body by the digestive tract, but their effects are usually delayed.
◉ Tinctures containing CBD
A CBD tincture is a condensed CBD oil that uses alcohol as carrying agents instead of MCT oils as the carrier base. It usually comes in small bottles with a dropper head that are intended to put CBD tincture droops under the tongue. By the help of sublingual glands present in our mouth, CBD can be ingested into the bloodstream of our body. The concentration of CBD tinctures is measured in milligrams. Whereas the dropper is designed to contain a specific amount of CBD oil in milliliters and labeled with a measuring scale for indexing per servings.
◉ Topicals containing CBD
When hemp oil or hemp seed oil is blended with other ingredients, a topical hemp lotion is produced that will keep skin nourished and rejuvenated. According to some studies,  the complex (ECS) or Endocannabinoid System is said to be present in the skin. Hence, choosing the correct topical product rich in full spectrum CBD could potentially provide pain relief for muscles and joints.
What are The Different Concentrations of CBD?
MEDOSI offers CBD oil tinctures in different concentrations as follows:
Low concentration

 

Full Spectrum of 500mg

 

(Recommended for Beginners)
Medium concentration Full Spectrum of 1000mg (Most Popular)
High concentration Full Spectrum of 3500mg (Suitable for Pro-Users)
Medium concentration THC-Free Broad Spectrum of 1000mg (Most Popular CBD Oil without THC)
Related: How to Choose A CBD Oil without THC in 2021
➤ Concentration of 500mg
If you're new to CBD hemp oil, this is a perfect way to get started. The 500mg is the lowest concentration we are offering which allows you to try CBD at a healthy and lower dose. The 500mg contains 17mg of CBD per serving, and many people find that this micro dosing provides them with the health advantages of CBD.
➤ Concentration of 1000mg
This is our most popular product and a perfect way to try out different CBD dosages. If you're not sure where to start, a half-serving of the 1000mg bottle will give you the same amount of CBD as our 500mg tincture bottle. Two servings from 500mg bottle will give you the same amount of CBD dosage identical to single serving of 1000mg bottle. You have plenty of space at this concentration to find out what CBD dosage level is right for you and which bottle to buy next. The 1000mg bottle comprises 33mg of CBD per serving and a popular option among our brand subscribers who use CBD hemp oil on a regular basis. This popular concentration is available for both Full Spectrum & Broad Spectrum THC-Free CBD Oils tincture drops.
➤ Concentration of 3500mg
There are moments when you simply want a little bit more. This is our most potent CBD product concentration, comes in 3500mg Full Spectrum, with 116mg of CBD per serving. We don't advocate starting CBD dosage with 3500mg concentration. Even though, we have a lot of customers who think that the 500mg isn't giving them the desired effects and 1000mg finishing up very fast. That's why our strongest CBD concentration of 3500mg dose gives them a little more, they are searching for.
How Much CBD Should I Take as Beginners?
'The Low and Slow Method' is the best process for CBD product dosing if you are new to the CBD world. The two elements of this strategy are meant to ensure that beginners have a good experience with CBD as well as not to ascend into larger doses very quickly.  Here, Low refers to the dosage size which means proceed with a lower dose before you've had a better understanding of CBD's impact on your body. The term "Slow" applies to the consumption rate at which you consume the drug, implying that you can take your time between doses.
How to Apply The Low and Slow Method?
The best three ways to apply the low and slow methodology are as follows:
For CBD Edible Products
Use the guidelines that come with the CBD edibles packaging, take the smallest dose possible. This usually equates to one gel capsule or a single gummy. Until taking any additional doses, wait the duration specified by the manufacturer.
In Case of CBD Topical Products
As for any new cream or lotion, start with a small amount in a separate region of your body, such as your arm or wrist. Look for instructions on how much to use for each session on the product label, and then raise the volume once you've given enough time to see how it suits you.
With CBD Tincture Products
Fill the dropper halfway with the lowest possible concentration. Before swallowing, hold the oil under your tongue for half minute minimum. Then, you can eventually increase the volume of liquid you put in the dropper and the number of droppers you consume till you get the desired results.
How to Calculate Right CBD Potency?
When you decide to purchase CBD oil, you can find a range of choices, such as product strengths and bottle sizes. The absolute count of CBD in milligrams per bottle size (i.e., mL or Oz) specified on the label determines potency. Simply divide the volume of CBD mentioned on the container in milligrams by the size of the bottle in milliliters to determine potency. For example, a 30 milliliter bottle containing 600 milligrams of CBD, has a concentration of 20 milligrams per milliliter. This makes calculating the potency/strength per serving a breeze. On the product label, certain brands often state the strength per serving.
You may be thinking now "How will I decide which potency is right for me?". It all depends on how much CBD you want to take in. If you've been using CBD for a while, you might even be aware of your regular CBD dosage in milligrams (mg). Consider buying a product with a higher potency (for example, 50mg per serving). You'll get your normal CBD dosage for the fewest servings possible.
Starting with a lower potency CBD oil and progressively increasing the intensity is advised for new consumers. If you are increasing your normal CBD oil dosage, make sure you're not having any negative side effects. You are most likely to purchase a CBD product of the lowest possible potency at the lowest possible price. However, if you are serious about getting the desired result, we suggest purchasing one with a mid-high potency. Again, you have complete discretion of how much CBD you take. For a high-potency substance, you'll be able to achieve the desired result with only a few drops of CBD oil.
Related: To find out your optimum CBD oil dosage potency, use our interactive CBD Oil Dosage Calculator now!
The Importance of Right CBD Oil Dosage
There's nothing much to say about an excessive dose of CBD since it is a quite safe substance, but taking too little might not be harmful. However, taking an abnormally large amount of CBD is feasible but potentially dangerous due to drug interaction or other reasons.
The issue is why finding the appropriate amount of CBD oil is so important if the dosage variation has no negative impact. The explanation for this is that you don't want to squander your time, money, or efforts in the long run. It's possible only if you have a good understanding of the right CBD oil dosage. Inappropriate dosing has no ill effects, but it doesn't offer any advantages either.

New users almost always don't bother to figure out their ideal dose of CBD, instead claiming that it isn't effective. With the aid of our CBD oil dosage calculator, you can easily determine the right dosage of CBD oil.
How Long It Takes to Feel The CBD Dosage?
The time that is required to feel the effects of different CBD product dosage known as CBD onset time. In short, the reaction time that needs for any CBD product to simply kick in is known as CBD onset time. CBD onset time required for various CBD products are as follows:
For CBD Edibles: Maximum of 2 Hours
CBD Tinctures: Minimum 20 to 45 Minutes Highest
For Vape products: Lowest 15 to 30 minutes Max
In Case of CBD Topicals: 45 to 60 Minutes Max
CBD Sublingual / Oral Sprays: 15 to 45 Minutes
How Long Exactly CBD Effects will Last?
CBD's symptoms last somewhere starting from 2 to 6 hours based on how you do it and how much you consume it, as well as your body immunity against CBD.
Take some general notes when using CBD to fully recognize how your body responds to CBD, such as:
The quantity you consumed and how you ingested it in your body
When you first become aware of the possible effects
Where is magnitude of the CBD effects
What was the duration of the CBD effects
These above data will assist you in determining how many to take the next time, as well as when to take it.
Related: Worried about CBD drug test? Read our detailed article on: "How Long Does CBD oil Stay In Your System?"
Is It Possible to Overdose CBD?
Humans withstand constant CBD use, even at higher dosage like 1,500 mg a day, according to a safety and side effects of CBD review published in 2011.
However, a study performed on mice released in 2019 posed questions about CBD's propensity for liver damage and reactions with other prescription drugs.
If you're already taking prescription drugs on a regular basis and want to consume CBD, talk to a doctor first as precautions. However, CBD has a small number of reported side effects. In case  of CBD overdosing or any other kinds of CBD related reactions diarrhea, appetite swings, and nausea are the possible common side effects.
Summary: How Much CBD Should I Take?
We hope that this guide will give you a pristine idea on this question 'How Much CBD Should I Take?'. Note that, the best way to do so is start with a small dose of CBD and gradually increase your dose until you achieve the best possible level suited for you. But if there's one thing we hope you should remember, it's to stick with high-quality CBD products from a top notch brand. 
Many suppliers and brands are preying on unsuspecting consumers as a result of the CBD demand surge in the market. To avoid these situations, look for the brands that are offering (COAs) or Certificates of Analysis for their products from renowned 3rd party labs before buying one. Which will give you evidence of products' consistency & quality in the form of ingredient lists and third-party analytical tests. 
We at MEDOSI offer the highest-quality CBD products. We care the most about our customers' satisfaction and trustworthiness, that reflects our core company values. Our laboratories are cutting-edge, FDA-registered, and cGMP-compliant whereas our products are extensively trialed and tested by independent ISO-certified 3rd-party labs.
We encourage you to take a look at our wide range options of CBD products, but consult your doctor before making them a part of your daily routine. You should read Medosi Blogs and go through our FAQ Page to learn more about the potential health benefits of CBD products and how to utilize them to enhance your overall quality of life.