What is CBD Relief Cream? | All The Facts You Need to Know!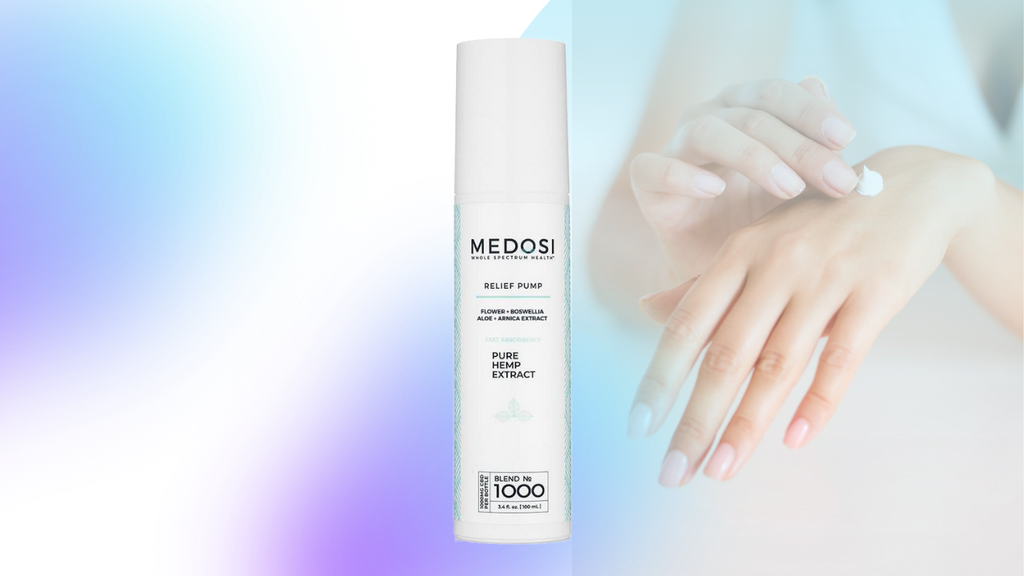 When we hear the word CBD, we usually think of a supplement that must be consumed orally, such as CBD oils or gummies, but those days are over. CBD is now beginning to appear in a variety of different products. Though CBD tinctures are still the most common orally ingested cannabidiol, topical CBD products have also surged in popularity in recent times. CBD Relief Cream is one of those convenient CBD-infused topical products with therapeutic potential. It has shown noteworthy benefits in the treatment of pain relief, inflammation, nausea and most significantly pain induced by sports and strenuous physical activity.
CBD relief cream provides regional comfort while also improving the skin's overall glow and health. It is a complete topical CBD solution that comes with various advantages into a single package. Now questions may arise in the thoughts of a novice CBD user: 'What is CBD Relief Cream?'- Plus some common queries like 'How should I use it?' 'Does it really work?' 'How to choose the best relief cream?' - Here we will discuss to clear up common misunderstandings and provide all the facts you need to know about CBD Relief Cream.
What is CBD Relief Cream?
CBD topical products like relief creams, roll-on gels, sprays and lotions infused with CBD are rubbed onto the skin for comfort on the topical surface or deeper in muscular tissue. As the name suggests, CBD relief cream is a cream-based CBD enhanced topical product that offers the effect of calmness to support your skin when you need it most. The majority of typical beauty creams are composed of around half oil and half water mainly.
When CBD relief cream is administered topically, it can be used to relieve pain and inflammation utilizing the force of CBD from hemp distillate, as well as aid in the management of various skin conditions.
The consistency of CBD topicals like creams, roll-on gels, salves, and lotions is what distinguishes them from each other. Just like with any non-CBD infused products, it's basically up to the consumer's discretion and requirements. For instance, creams may be more effective for extremely dry skin since they are thicker. Roll-on gels and salves, on the other hand, are entirely composed of oil and wax and do not contain any water. Creams absorb more quickly than gels, making them a better choice for muscular discomfort.
What is CBD Exactly?
To comprehend CBD relief creams, first it is necessary to fully understand CBD itself. The term CBD refers to Cannabidiol, which is one of the thousand naturally found cannabinoids in the cannabis sativa plant. Another well-known cannabinoid among them is Tetrahydrocannabinol or THC. Both CBD and THC have their own set of advantages, but the main difference is that CBD is a non-psychoactive cannabinoid whereas THC is a cannabinoid with psychoactive properties that may alter a person's mind and is also responsible for that infamous cannabis high feeling.
People have a common misunderstanding regarding CBD creams that it will make them high. However, the truth is CBD creams will never make you high. CBD creams do not enter the bloodstream since they are applied to the top layers of the skin. CBD creams are referred to as topical just because of that. 
CBD oil is legal as it is derived from the hemp plant, which is the cannabis plant's industrial form and contains a high concentration of CBD and a very low concentration of THC. When CBD edibles like tinctures or gummies are taken orally, it directly enters the body. On the other hand, topical CBD creams remain only on the upper skin layers. Thus, they do not lead to a failed drug test to come back positive.
Related: If you have quarries like how many CBD gummies should I eat? Check out our latest blog on "CBD Dosage Chart for Gummies: CBD Gummy Dosage Guide"
Cannabinoids Present in CBD Relief Cream
Cannabidiol aka CBD is the main ingredient of any topical CBD cream, but the other ingredients that might present on the product is depending on the CBD extract types it is made from. The three major types of CBD extracts used by manufacturers are CBD Isolate, Broad-spectrum and Full-spectrum.
A topical CBD cream made from isolate CBD extract contains nothing but the only phytocannabinoid CBD. It might contain CBD, other minor other cannabinoids, and terpenes for Broad-spectrum extract. Whereas, the Full-spectrum CBD extract contains CBD and other phytocannabinoids, terpenes with a trace amount of THC (less than 0.3%). Both isolated & broad-spectrum extract made CBD topicals are THC-Free or CBD topicals without THC. 
Apart from CBD, some noteworthy plant based cannabinoids that may contain your topical CBD relief creams are as follows:
THC (Tetrahydrocannabinol)
Tetrahydrocannabinol or THC is an endogenous chemical found naturally in cannabis plants called phytocannabinoids, often known as plant-based cannabinoids. THC is the psychoactive compound accountable for the high associated with recreational cannabis usage. Any CBD product with full spectrum might include up to 0.3 percent THC. This tiny amount of THC is unlikely to make you feel euphoric. THC-free CBD products, on the other hand, are easily obtainable on the market.
CBG (Cannabigerol) 
CBG, which is becoming increasingly popular, is also found in the Cannabis sativa plant. When (CBG) or Cannabigerol is included alongside CBD, the overall bioavailability of a broad spectrum product formulation rises dramatically.
CBC (Cannabichromene)
One of the most prevalent phytocannabinoids found in cannabis sativa plants is CBC. Cannabichromene (CBC), like CBD, does not provide a high sensation.
CBN (Cannabinol)
CBN is another cannabinoid that is comparable to CBD in many ways. Nonetheless, CBN is formed during the oxidation process of plant leaves. This photosynthetic process transforms THC to CBN with the help of sunshine and fire. Cannabinol (CBN), like CBD, is unlikely to make you feel euphoric or psychoactive.
Terpenes & Flavonoids
Terpenes and flavonoids are compounds found in cannabis plants that are responsible for the plant's aroma and flavor. While many people associate them with cannabis plants, they may be found in a variety of other plants as well, particularly in herb and fruit plants.
What Does CBD Relief Cream Do?
Topical CBD relief cream formulations focus largely on hydration and give nourishing, delicate care for your skin. It may assist to relax and soften the skin for premium skin care that you will enjoy using. Friendly for all skin types including all ages, even those with patchy skin surfaces and varying degrees of sebum secretion, which is a plus for any sort of skin care. Thus, it supports healthy skin through a variety of ways, processes depending on its uses.
The CBD relief cream offered by MEDOSI is unlike anything you've tried before as skin care products. We provide a wide collection of high-quality CBD products. Among those, CBD Relief Cream 1000mg is the most popular and well-reviewed CBD topicals. Our CBD relief creams offer a number of advantages over other topical CBD products which we shall go over in detail shortly. The CBD relief creams are appealing to those who are looking for a complete skin care solution with a pain relief option.
Our CBD relief cream is intended to assist your skin in healing and recovering from exhausting  daily activities with relaxing & soothing effects. MEDOSI is an expert in the development of high-quality CBD products. In terms of quality, ingredients, and extraction method, our topical CBD relief cream is unparalleled.
Ingredients Present in CBD Relief Cream
Our soothing relief cream is a convenient and easy to apply solution that contains 1000mg of hemp-derived CBD and additional fighting components, including Emu — a strong, calming, and effective substance. It's a topical pain reliever that's strong, soothing, and effective. It contains a proprietary blend of nutrients as well as the best whole-plant extracts available. As a result, our CBD relief cream is a complete solution. The airless pump facilitates easy application of the relief cream and is simple to use. This physician-formulated topical product is meant to provide results. A comprehensive relaxation cream that provides excellent pre-workout and post-workout recovery.
A CBD topical product is distinguished not just by the presence of cannabinoids. The additional ingredients present in our relief cream are what make it a top-tier topical CBD product. It may aid in relaxation and pain reduction. The following are some notable ingredients:
Aqua
Menthol
Emu Oil
Alcohol Denat
Glyceryl Stearate 
Capric Triglyceride
Cetyl Alcohol
Phenoxyethanol
Hexylene Glycol
Squalane
Stearyl Alcohol
Aloe Barbadensis Leaf Extract
Boswellia Serrata Extract
Arnica Montana Flower Extract
Related: If you are looking for a comprehensive CBD roll-on gel for excellent pre and post workout recovery. Read our article on "What is CBD Roll On? | Everything You Need to Know About!"
How To Use CBD Relief Cream
CBD-infused lotions and other topicals are normally easy to apply. Apply the topical CBD relief cream to any sore region that might benefit from localized therapy. CBD relief cream, like other lotions and creams, will not damage skin.
The use of CBD topical creams is identical to that of applying a moisturizer to your skin. The correct dosage of CBD to apply to the skin, on the other hand, is not as simple. It's crucial to figure out how many milligrams of CBD are in your topical relief cream to determine if there's enough of the cannabinoid to give the therapeutic relief that you are looking for.
Begin with a low-tolerable dose and progressively increase the quantity of CBD cream until you achieve the best therapeutic results. There are no known adverse consequences to be concerned about while using a topical relief cream infused with hemp-derived CBD.
CBD Relief Cream: How Does it Work?
CBD creams are believed to reduce inflammation, relieve pain, and raise the quantity of endocannabinoids in the body in a variety of ways.
The calming and therapeutic effects of CBD infused creams are the driving force behind its usage in problem areas, whether it's for joint pain, swelling, or open wounds. While CBD has anti-inflammatory properties, putting the cream onto the skin and allowing it to absorb is thought to be an useful method to reduce swelling and discomfort in certain regions.
The second working mechanism of CBD cream activity is that it stimulates the body's natural endocannabinoids, similar to how CB2 receptors in the immune system stimulate the body's natural endocannabinoids. The use of a CBD-based cream is considered to activate the body's own endocannabinoids, decreasing inflammation and calming painful regions.
There is a scarcity of information about how and whether CBD creams work, and there has been minimal rigorous research in animals and people. At this stage, any type of conceptual analysis is merely that.
Does CBD Relief Cream Work?
Topical CBD creams can relieve pain and inflammation in certain areas of the body, such as the bone joints & muscles. The relief cream will not be carried into the bloodstream. As a result, a topical CBD cream isn't meant to alleviate a chronic condition completely, but it may benefit the skin immediately and provide some pain relief.
Unlike other over-the-counter painkiller drugs, reputable CBD relief cream solutions don't merely obscure pain or inflammation. In fact, they can lessen the experience by disappearing pain for a certain amount of time. The presence of a large number of cannabinoid receptors on the skin is the reason behind this. The ECS aka Endocannabinoid system, regulates many critical body functions and incorporates cannabinoid receptors.
Those huge numbers of cannabinoid receptors found all over the body are linked to pain, hunger, immunological function, mood, and other crucial factors. Cannabinoids are naturally produced body components that interact with the endocannabinoid system, and they bind with cannabinoid receptors in the same way as THC and CBD do.
CBD's impact may also depend on individuals. Some people find it beneficial, while others don't. For example, a 2019 research revealed that, cannabis products with higher THC levels were related with better symptom alleviation in over 3,000 persons, while CBD products (which do not include THC) were not.
The CBD Relief Cream Benefits
The major therapeutic benefits of topical CBD relief cream are the potential to alleviate pain and inflammation, soothe skin issues, and aid in wound healing.
Relieves pain symptoms
Adenosine balances pain and pain intensity by increasing adenosine levels in the brain and activating pain-suppressing CBD reuptake synapses. CBD can be avoided by limiting stress signals by contracting lesions in the brain that cause pain and arousal to TPRV1.
According to studies, CBD has been observed to decrease the production of inflammatory indicators such as tumor necrosis factor alpha, which is generated in excess by rheumatoid arthritis patients. In 2017, one further research revealed that preventive CBD therapy in rats with osteoarthritis, halted pain and prevented the development of additional pain.
Reduces Inflammation
By acting as an antioxidant, CBD lessens oxidative stress and systemic inflammation. CBD also reduces inflammation and neutralizes hyperalgesia (pain response) to neuropathic pain (pain response) by inhibiting micronutrients such as zinc and selenium, which are important components of a balanced immune response. It can fight fibromyalgia, neuropathic back pain, etc. CBD links to and stimulates ECS receptors in the skin, which regulate pain perception and inflammation, according to an in vitro research published in Neurology.
Soothe Skin Problems
Topical CBD relief cream formulations focus largely on hydration and give nourishing, delicate care for your skin. It may assist to relax and soften the skin for premium skin care that you will enjoy using. Friendly for all skin types including all ages, even those with patchy skin surfaces and varying degrees of sebum secretion, which is a plus for any sort of skin care. It supports healthy skin through a variety of ways, processes depending on its uses.
CBD is a safe and efficient treatment for individuals suffering from chronic skin diseases such as atopic dermatitis, psoriasis, and skin marks. A CBD cream used for three months dramatically reduced symptoms and marks of the skin conditions in a small trial involving 20 patients reported in Clinical Therapeutics in 2019.
Caring Wounds, Cancer and Alzheimer's
CBD may apply as an enemy of malignant growth impact through the weakness of GPR55 receptors in the body. By the enactment of the PPAR-gamma receptor, which likewise debases amyloid-beta plaque, a key particle connected to the advancement of Alzheimer's sickness.
A study published in the Journal of Pain and Symptom Management in 2017 showed that CBD and THC administered topically might provide excellent pain relief for malignant wounds.
When administered topically, much of the scientific data refers to CBD's potential to regulate inflammation, pain and the histamine response. It has been found to reduce redness, relieve pain in arthritic joints, and speed up the healing process.
Unlocking New Doors
Despite the fact that there is research that demonstrates CBD's capacity to interact with skin receptors and factors, we require considerable more study to clarify the physiological mechanisms at action, especially in humans, as the majority of previous research has been performed on animal models.
According to a paper, published in Expert Reviews and Clinical Immunology, a panel of worldwide rheumatologists determined that additional research into the long-term benefits of CBD and other cannabis-related medicines for rheumatological diseases is needed. Larger research, like any small study, might assist validate the findings.
How Is CBD Relief Cream Made?
CBD relief creams are simply a cream or lotion loaded with the highest concentration of CBD available. The CO2 extraction method is used to extract the CBD component that is infused in CBD creams. One of the clearest and cleanest methods of extracting CBD is the CO2 extraction process. This technique of extraction also ensures that no solvents remain in the CBD concentrate, which may be damaging to the skin.
The CBD extract is then diluted using a carrier oil. This carrier oil serves two purposes: it ensures adequate dilution and preserves the CBD. MCT/coconut oil, avocado oil, sunflower oil, palm oil, and others are often used as carrier oils. Finally, various CBD-infused products like CBD relief creams are made using this diluted version of CBD. To produce CBD creams, different essential oils such as olive oil, MCT oil, coconut oil, and sheer butter or cocoa butter are mixed additionally with CBD oil to give it a cream or lotion-like texture.
How to Choose The Best CBD Relief Cream
When it comes to choosing best quality topical CBD products especially like CBD relief cream for aches and pains or skin issues, doing your homework is crucial. In addition to that, there are a few major aspects to consider:
Quality Assurance
Look for CBD topical providers who have third-party lab testing reports. To meet the criteria, search for Good Manufacturing Practice (CGMP)-compliant plants that fulfill FDA guidelines. Only 31% of CBD hemp oil products were correctly labeled with the correct CBD content, according to a 2017 research.
Source of Hemp
When feasible, look for topical CBD products manufactured from non-GMO, USA-grown hemp.
Method of Extraction
High-quality products are produced using robust, dependable extraction techniques like CO2 and ethanol.
Reputation of The Brand
It's not always simple to figure out, and it has nothing to do with size or shelf life. Wherever possible, look for actual customer reviews and ratings.
Potency or Strength
Although no optimum dosage of CBD is suggested, the amount of CBD per ounce in topical hemp products varies considerably, so pay deep attention to this.
Hemp Extract Types
Full-spectrum CBD extract is derived from the entire or whole hemp plant and contains traces of THC. All cannabinoids of the full-spectrum are present in the broad-spectrum extract, with the exception of THC. Whereas, CBD isolate is a CBD only extract that has been collected from the rest of the plant extract. Multiple experts claim that full-spectrum CBD products are superior because of the "entourage effect". Only when hemp's various cannabinoids synergistically act together to generate its optimal therapeutic advantages will you experience the medicinal impact of this effect. Both full spectrum CBD and broad spectrum CBD exhibit the entourage effect. However, CBD isolates are not accessible.
Although CBD oil includes necessary fatty acids, the proper topical can enhance the soothing nutritional benefit by adding additional moisturizers and other substances. Aloe Vera, arnica, apricot oil, avocado oil, cocoa butter, MCT/coconut oil and vitamins like A, D, and E are some of the extra nourishing and pain-relieving components to look for.
Final Thoughts
Topical CBD creams have emerged as an efficient approach to gain the soothing and stress-relieving benefits of hemp to our daily health & wellness plans. MEDOSI Relief Cream, like other body creams, is applied topically and contains cannabinoid oils to give soothing and relaxing relief from the stresses of everyday life. Within minutes of applying the cream to your skin, you will notice its skin-soothing and calming effects.
Medosi allows you to access your inner strength. Our topical CBD Relief Cream is one of the most adaptable and smooth skin care solutions on the market. With over a thousand returning clients, MEDOSI is the brand you can trust.
Our finest CBD topical solution, CBD Relief Cream contains deluxe, raw, and pure organic components produced from exclusively chosen hemp plants cultivated in the U.S for a long-lasting impact and shelf life. You can order Medosi Products online that may help you on your journey to limitless flexibility and optimal freshness. Our custom blend of ingredients, as well as the finest quality whole-plant extracts and other healing and relaxing components, make these products unique.