CBD Dosage Chart for Gummies: CBD Gummy Dosage Guide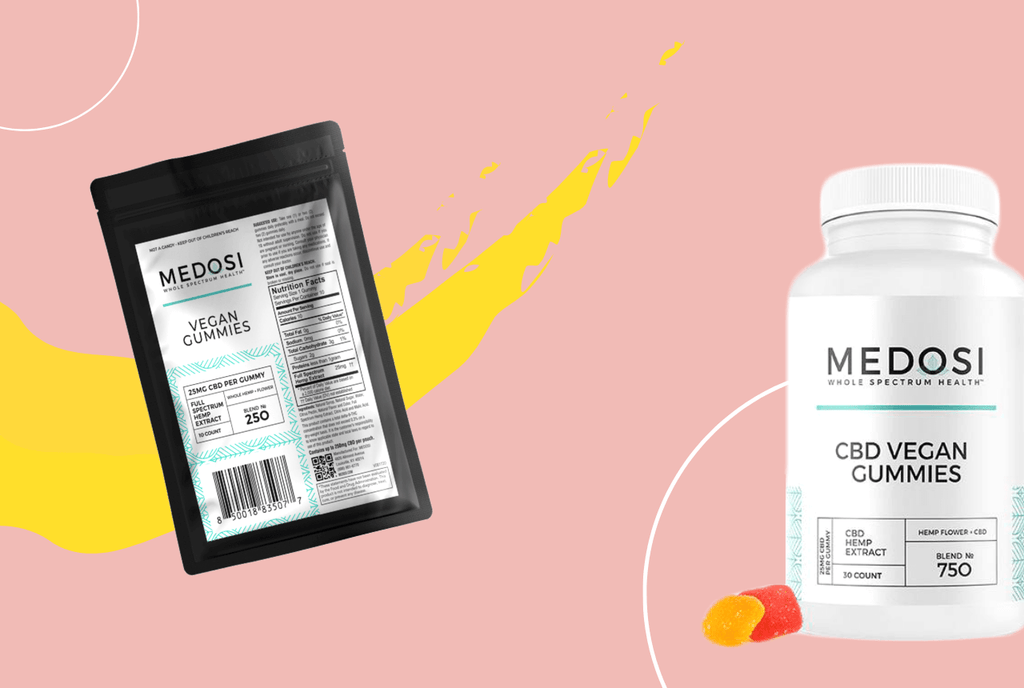 What's the best CBD gummies dosage? How many should I eat for my desired effect? These questions have come up often among those using CBD gummies. The answer to this question largely depends on what you are looking to achieve with your gummies and how it will affect you.
Gummies are a great way to get CBD for your daily needs without any worry of getting high. They contain a low amount of THC which means there is no psychoactive effect. However, it can be hard for some people to determine how many CBD gummies they should eat each day because there is no one size fits all solution.
Determining the right CBD gummies dosage is crucial for getting the most out of your experience. We will go over how to correctly dose your CBD gummies, as well as which ailments can be addressed with these delicious treats!
If you're new to CBD gummies, or even if you are an experienced user, it can be difficult to know how many of these delicious treats is the right amount. In this blog post we'll give you a rundown on what dosage is best for beginners.
What are CBD Gummies?
CBD gummies come in a variety of shapes and flavors. These delicious treats contain the same therapeutic properties found in hemp, but without THC (the psychoactive ingredient). They're made from natural ingredients like orange juice and honey extract which provide an added boost of sweetness. In addition to the natural ingredients, many brands will add CBD oil and roasted hemp seed for a more therapeutic experience.
CBD gummies are one of the most popular ways that patients new to medicinal cannabis take their dose because they're easy-to-use and tasty! Plus, there is no risk of getting high from them like you can with smoking. 
CBD gummies are different from normal gummies because they are infused with CBD during the making process. MEDOSI's CBD vegan gummies are a fun and healthy way to incorporate cannabidiol into your wellness routine. Each delicious piece delivers 25 milligrams of hemp-derived active cannabinoids, which have been tested for quality by an independent 3rd party lab.
Related: How to take CBD? Explore 6 unique ways for CBD beginners!
How Many CBD Gummies Should I Take?
There is no simple round number answer for the question of "how many CBD gummies should I eat?" CBD edible gummies come in many different levels of concentration. Some gummies are 5mg while some are as high as 25mg or more. The packaging recommends taking low doses initially and increasing in increments until you find the optimal concentration for your needs.
Your CBD gummies dosage will be unique because every individual Is unique with unique needs. Plenty of brands offer a starting serving size, but if you find that it does not work with your body chemistry or ailment, then increase incrementally as needed.
The CBD dosage for gummies that you take will be based on how your body is responding and what ailment you are trying to address. For most brands, a starting serving size is included, but just as we all have our own unique way of living life, so does our CBD gummies dosage.
Factors Impacting CBD Gummies Dosage:
Your body weight
Strength of the CBD gummy
Your unique needs
In addition, there are two things that can impact how much you need for your dosage: metabolism and your body chemistry. This is why some people might feel the effects right away. For others, it might take a little bit longer for the effects to be felt.
Your Unique Needs
We all have our own distinctive problems to address, and this means that there is no one-size-fits-all solution when it comes to CBD gummies dosage. We have categorized the reasons you might take CBD gummies into three groups:
Low:

 

focus, relaxation, balance, general health, sleep
Moderate: headaches, recovery, restlessness
High:

 

chronic pain, anxiety and depression, muscle soreness, irritations
CBD Gummies Dosage Calculating Chart
WEIGHT GROUP
DESIRED EFFECT
LOW
MODERATE
HIGH
Light (below 130 lbs)
11mg or less
12mg to 14mg
15mg to 17mg
Medium (130 to 230 lbs)
18mg or less
19mg to 23mg
24mg to 27mg
Heavy (above 230 lbs)
23mg or less
24mg to 30mg
31mg to 45mg
You can calculate your CBD dosage with gummies based on these levels of desired effect and your own body weight.
Related: How much cbd should I take?
Your Body Weight
One factor influencing CBD absorption is your weight. There are a lot of factors that come into play when calculating the proper dosage, some of which are well studied and others that are more unpredictable. However, your body weight can be used as a starting point to calculate your CBD gummies dosage.
Although this CBD gummies dosage chart is based on weight vs desired effect, other factors will influence what type and strength of dosage of CBD gummies that you need. If you have never taken CBD before, it's best to consult a medical professional or your family physician.
The stronger or weaker dosage of CBD gummies may differ from the weight categories outlined above. For example, people experiencing chronic pain will likely need a stronger dose than those looking for help with sleeping issues.
Strength of the CBD Gummy
Another factor that influences CBD absorption is the strength of the gummy. Higher doses will be better for more severe ailments, while lower doses are best if you just want to relax or sleep at night.
The amount of CBD in CBD gummies is measured by milligrams. The strength of CBD gummies varies by brand and typically measures between 10mg to 30mg in CBD. Tolerance isn't the only factor to consider when deciding on how many CBD gummies to take. People who want significant effects should use a higher CBD gummies dosage.
However, potency doesn't impact dosage (the quantity of CBD that is recommended to be taken per dose). Dosage, as it relates to CBD gummies, is the amount of CBD received at one time.
If this is your first time taking CBD gummies, you should visit your physician for consultation as we mentioned earlier. However, the table above reflects the CBD gummies dosage for those who are going to take CBD for the first time, based on their weight group.
MEDOSI CBD gummies are a fun way to incorporate CBD into anyone's wellness routine. Each delicious gummy delivers 25mg of hemp-derived Active Cannabinoids. They are tested for quality by an independent laboratory and contain no artificial preservatives, colors, or additives.
Your Metabolism
We all process things differently, which is why weight isn't the only predictor of how your body might react to CBD gummies. Your metabolism affects how quickly or slowly your body will be able to break down the substances in these delicious treats.
Your Body Chemistry
Another factor that can play into the absorption and breakdown of CBD gummies is your body chemistry. If you have high levels of the enzyme cytochrome P450, it may take longer to feel the effects of CBD. This is also true if you are on certain medications or have other health conditions.
Tips For Correctly Dosing Your CBD Gummies: 
– Take a low dose initially and increase your dosage if needed to find the right balance for your body's needs. This is usually best, especially with new products that you are not familiar with yet or when trying different brands of gummies.
– Consider how quickly (or slowly) you will process the CBD in your gummies.
– Consider that some people may need less CBD than others based on their weight, metabolism, and body chemistry.
– Use the information on your CBD gummies package to calculate how much you need in order to find what is right for your individual needs. Be sure that you are using a reputable brand of products, as different brands may vary greatly in their dosage recommendations for one serving size (which might be too strong or not enough)!
MEDOSI CBD Gummies Are Quality Tested
So the next time you ask yourself "How many CBD gummies should I take?" you know the answer is different for your friends and you. But when it comes to the quality of the product, you definitely want the best.
Just how it is important you figure out your right dose, it is also important to choose a brand that meets the highest quality standards. MEDOSI offers the highest quality CBD gummies on the market. All of our products, including our gummies, are quality tested by independent ISO-certified 3rd party labs. Each product comes with its own "Certificate of Analysis," known as a "COA."
You can try MEDOSI vegan gummies, whether you are new to CBD or already an experienced user. Top notch quality of our products and our unparalleled customer service will give you peace of mind.
We also share informative posts like this one on MEDOSI's blog regularly. Feel free to check our other blog posts there. You can go to our online store to order other MEDOSI products and get it delivered right at your doorstep. Just to let you know how much we appreciate our readers, we are sharing a 20% discount promo code here. Use MEDOSI20%OFF at the time of checkout to enjoy a 20% off discount.